Global Warming, Cordwainer Smith, and Prehistory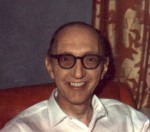 Why do global warming, Cordwainer Smith, and the study of prehistory end up in the same title? Because my husband and I use the latter two topics to cope with the stress of thinking about global climate change and its effects on our earth.
Chances are you have never heard of Cordwainer Smith. He was a science fiction writer who died over 40 years ago. He had a bizarre and visionary way of writing which has influenced the direction of science fiction in several ways. He was also my father.
Cordwainer Smith
Last summer, I spent several weeks re-doing the website I created about his science fiction and other writings: it's at www.cordwainer-smith.com, and I have a blog there too. I am not actually a science fiction fan – that is, I read very little of it – but I do find that re-reading my father's stories now and then helps stretch me outside of the reality I live in.
I also sometimes gain some peace by reflecting on the writings of another relatively obscure writer, Olaf Stapledon. We have created an annual award, the Cordwainer Smith Rediscovery Award, which was first given in 2001 to a writer deserving of rediscovery. Judges John Clute, Scott Edelman, Gardner Dozois, and Robert Silverberg chose Stapledon to be the first recipient of the award, Here is a snippet of something my father wrote as a young man, about Stapledon:
The cast of characters includes all men from the present time to the death of man; and the time covered is two thousand million years. . . .

This romance is well worth reading if only for the sheer novelty of it. The grandeur of its conception, whether successfully fulfilled and expressed or not, is not exceeded by any other modern writing I have seen.

The theme of the book is man's search for purpose. All the species and races of men are haunted by the purposelessness of being; and the battle of two billion years is only half-won when men die.
So you can see why reading Olaf Stapledon also stretches my mind. Two billion years… That link goes to my page about him.
Prehistory
My husband Kelly has become fascinated with the earliest history of humanity and spends some time first thing every morning sitting and reading with his mug of tea. He's read quite a few books in the years that he's been doing this, and it certainly gives him a perspective on the contemporary global climate change, not to mention on how many civilizations have disappeared after not adapting to drought or other changing conditions. (That isn't exactly uplifting at this point in our history, but it's interesting.)