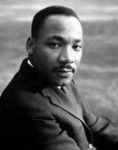 The summer that I was 20, Martin Luther King, Jr., gave his "I Have a Dream" speech in my hometown of Washington, D.C. The day of the speech, I was flying back home from Africa, from Sierra Leone where I had been sharing in a dream of equality with other young Americans, Canadians, and Africans. We had been doing construction on a school, living together in dorms. We were on a workcamp with a group called Crossroads Africa, which placed groups like ours all over that vast continent.
It was the sixties, though we didn't yet know in 1963 how many new beginnings would come out of that era. Equality among races was only one of the many dreams that began to sow seeds and even see some fruition in those fateful years.
This morning I woke remembering fragments of a dream. I had been back in Sierra Leone. I hadn't found Isa, Michael, Malcolm, Georgina, or any of the other young Africans who had worked with us that summer. I wondered if they had survived the years of civil war in Sierra Leone. My special friend Isa and I had stayed in touch, and even met once in London when she was doing a course there and I was at a Quaker center for a few weeks, but I had not heard from her since she was working for a Christian group in Idi Amin's Uganda.
But in this dream, even though I hadn't found my old friends, I had been heartened by something. The American tourists I was traveling with seemed to be operating at a greater depth than tourists often do. They seemed to have a hunger to truly connect with the meanings of the slave trade and recent history, to meet the living people with their hearts and not just their minds.
In the early sixties, we had no idea of all the growth that would come of that time. We are evidently in another time like that now. This week, I went to my acupuncturist because of pain in my back, in my upper right shoulder blade. I felt like I had been stabbed in the back. She did her needles, but she also did some energetic work that I barely began to understand. My back is much better, and my mind is blown (to revert to a sixties term) by a consciousness that works on energetic, historical, and cellular levels. We are meeting more with our hearts now, and where is that taking us?