The Judge: A Fable for Our Times?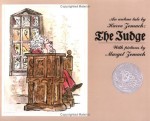 When I was a children's librarian, I used to do a lot of story hours for preschoolers. One book that was always a favorite was calledThe Judge.
One person after another comes before the judge and says something like this:
A terrible thing is coming this way, creeping closer day by day—
Its eyes are scary, its tail is hairy… I tell you, Judge, we all better pray!
The descriptions get longer and the thing sounds worse and worse. It spreads its wings and does bad things. But the judge is unmoved. He says something like
Lock him up and throw away the key. He can't fool me!
At the end, the horrible monster breaks into the judge's courtroom. Kids loved it! Something about authority figures getting their comeuppance…
I haven't thought of this book for years, decades even, but  it popped into my head the other day. Since then, I've been mulling over how easy it is for us all to deny that a terrible thing might be creeping closer day by day, whatever that terrible thing might be.
Hyperinflation, deflation, peak oil, drought, tornadoes, terrorism… I am sure you can think of a lot of things that might be coming this way. And isn't it easier to act like the judge?