Why Conspiracy Theory Is Not My Cup Of Tea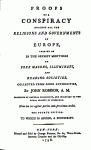 Of course I know that conspiracies exist. I remember noticing that in seventh grade when a group of cute girls began systematically ostracizing some of us brainy types. And even a cursory glance at human history can provide you with plenty of horrendous tales where conspiracies led to a lot of very nasty stuff.
But here and now, mercifully far beyond seventh grade, I choose to give very little thought to whatever conspiracies are currently going on internationally, nationally, and locally.
Why not? Because I am much less interested in what THEY are doing than in what I am doing and in what I can do to make this a better world. I know people who who can make persuasive cases for one conspiracy or another, and sometimes I get sucked into their ideas. Inevitably, my own energy and enthusiasm take a hit.
"But it's true…" is a common argument against my point of view and I admit it has some validity. But I chose to turn my attention to things that make me feel good. I have found repeatedly that when I put my attention on positive things, I enjoy my life more and get more done.
It seems to me that when we focus on conspiracies, we are diminishing our own power to be effective in this world. When we focus on how evil THEY are, we often ignore the ways in which we are acting in similar ways to the "bad guys."
There's a famous line from a Pogo cartoon:
We have met the enemy and he is us.
If I believe that, then there really is no us and them. No "gov'mint" versus the true patriots, no Catholics versus Protestants, no Christians versus Jews or Muslims, no people who are entirely right versus people who are entirely wrong.
I like it that way.