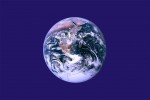 I've had a serious bout of futility this week.
No matter how much I do for simple living or green causes, I can't help but think of all the wasteful living that is going on everywhere, of people suffering from extreme lack of adequate facilities,  of the human propensity to have wars, of… of… of… I could go on without stopping with a list of at least 50 items. I bet you could too.
So I was seriously discouraged. I don't know what set off this particular spell, and I am not sure it matters. I did my Qigong, I swam, I prayed, but I stayed stuck in a sense of futility. I mentioned it to a good friend in an email, and he wrote back:
Here's what I've been doing to avoid being overwhelmed by the depressing news that just keeps on keepin' on.  Yes, I stay informed because I want to know what's happening, but I don't read about it too much.  Just enough to know what I need to know.

And the rest of the day is spent doing positive things: helping people by email, writing articles, helping my students, etc.  I'm not bragging, just saying how powerful it is to do positive things all day long (you and Kelly do this too).  It does  something to you deep down.  It's like "I know the world is in deep doo doo, but hey, I'm doing everything I can to help, so I am not sad."

I'm the happiest I've ever been in my life now.  And all I've done is follow my heart, do what I love to do (develop my natural talents), and do good things. [used by permission]
That really helped.  I'm still sad but I'm getting my zest back. This is such a beautiful world. There is so much to love.  And on we go.