Microtrends, by Mark J. Penn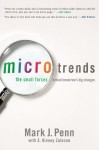 Microtrends: The Small Forces Behind Tomorrow's Big Changes is written by Mark J. Penn and Kinney Zalesne, pollsters who have solid numbers to back up all the trends they describe. Each trend– and there are more than 70 — gets its own short chapter. I found the book very readable. I would pick it up to read one trend and would find I'd read 4 or 5 before I tore myself away.
Quite a few of the trends, like long-term couples now being more likely to live apart, are not examples of simple living. But here and there throughout the book, I saw glimpses of possible futures. One of the main points that Penn makes is that now a trend that just attracts a very small percentage of Americans can still have quite a large influence on our society.
Some of the trends that are at least loosely related to living simply include:
Working Retired: far more older people are continuing to work, whether for the income, because they like to stay alive that way, or both. This means that the pressure on Social Security will be way less.
Stay-at-Home Workers: 4.2 Americans work at home, thus not commuting and able to live simply in a variety of ways. There's a lot more satisfaction in this crowd (which includes me), provided they don't feel too isolated.
DIY Doctors: "people who research their own symptoms, diagnose their own illnesses, and adminster their own cures. Penn is disturbed by this trend, concerned that serious conditions will not be found in time, and he has a point. But as someone who avoids going to doctors and taking mainstream meds unless there is a real reason, I've found the internet invaluable.
Young Knitters: Around 20 million Americans are knitting and crocheting, and the fast-growing part of this group are people (mostly female) in their teens and 20s.
High School Moguls: Kids are starting online businesses that go far beyond lemonade stands and babysitting.
Vegan Children: About 1.5 million children in the US are vegetarian or vegan, where practically none were half a century ago. Some are in homes where the parents eat the same way, but many a carnivorous parent has vegetarian kids.
Long Attention Spanners: This one really got my (long) attention. Penn comments on the conventional wisdom that America's attention span is shrinking, but then he documents the opposite trend as well. (This is characteristic of the whole book, that he shows how opposite movements are going on simultaneously in many arenas.) I was really pleased by his comments that  "A sizable number of us — often the most interested key decision-makers — will listen for as long as you can talk, read for as long as you can write, and follow for as long as you are willing to explain something." I tend this way myself and it helped me be more comfortable with this approach to writing my websites.
Modern Mary Poppins: College-educated nannies are an example of how education can be turned to good use in non-conventional ways.
Well, I could go on… the rise of classical music… black teenagers who outrank other teenage groups in going to church, volunteering, and voting… large numbers of new little churches and other spiritual groups…  how the working and middle classes are more apt to vote the issues while the elites (who have less at stake on a basic level) vote more by personality.. there are a lot of surprises in this book. Made me see many ways our culture is thriving, along with some ways it's not.
You can get Microtrends at Amazon and I'm sure it's widely available elsewhere.