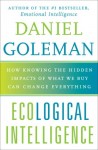 I've just been reading Ecological Intelligence: How Knowing the Hidden Impacts of What We Buy Can Change Everything, by Daniel Goleman. It's focused on the subtitle topic: how consumers are getting more insistent about knowing all aspects of the ecological cost of products, not only the carbon footprint.
For example,  an organic cotton t-shirt is better for the environment than a non-organic one. As Goleman points out, cotton crops use about 10% of all the pesticides used in the world. But he goes on to add that the dyes used in the shirt may be carcinogenic: workers in dye plants have unusually high rates of leukemia. (I had almost bought a navy blue organic cotton nightgown online last week, then decided I didn't really need it. Glad now!)
I had hoped that the book would have a lot of data about specific products and there is some of that woven into the essays. Goleman refers to this website, for example:
Goodguide.com is really useful and has great plans to be even more useful. At present, it reviews foods (including baby foods), personal care items, household chemicals, toys, and more. For example, you can find out which shampoos are best according to various criteria.
Goleman outlines a future in which ecological factors will be more central to consumers' buying process. Right now, there is still so much that we don't know about the supply chain for any given item.
This is not really a book to get as a reference tool; it's more a series of interesting essays.I read a library copy.
Goleman  surprised me by having favorable things to say about how Coca-Cola and Wal-Mart are becoming more ecologically aware, or should I say, intelligent. For example, he says that in 2006 Wal-Mart inspected nearly 8900 manufacturers' plants in various parts of the world, to check on working conditions, safety, and environmental practices. Over 1/4 of those visits were unannounced. Most factories with violations got warnings and guidance on how to improve, but a few were dropped from Wal-Mart's network.