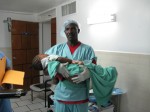 "Live simply that others may simply live" is a popular saying, originally said by Mahatma Gandhi. Now simply living is in doubt for a significant number of people in Haiti. We can help, a little or a lot.
Partners in Health, an organization founded by Paul Farmer, an American doctor who began working in Haiti when he was in med school, has long inspired me.
I had read a book by Tracy Kidder about Paul Farmer and his activities, Mountains Beyond Mountains: The Quest of Dr. Paul Farmer, a Man Who Would Cure the World and I had become a huge fan of the health care work that he and others have been doing in a part of Haiti some distance from where the earthquake struck.
You can see what is going on at their blog, with instant updates, on this site of theirs:
http://www.standwithhaiti.org/haiti
Here is a link to Building Back Better, an article Paul Farmer wrote less than a week after the big quake.
And here is a snippet from their website, about what they do:
PIH has been working on the ground in Haiti for over 20 years. We urgently need your support to help those affected by the recent earthquake.

Partners In Health (PIH) works to bring modern medical care to poor communities in nine countries around the world. The work of PIH has three goals: to care for our patients, to alleviate the root causes of disease in their communities, and to share lessons learned around the world.

Based in Boston, PIH employs more than 11,000 people worldwide, including doctors, nurses and community health workers. The vast majority of PIH staff are local nationals based in the communities we serve.
Let's help our Haitian brothers and sisters simply live. You can donate on their site.