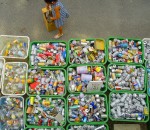 We just watched a one-hour documentary on TV called the Garbage Revolution. A couple in Canada agreed to keep their garbage in their garage for 90 days, except for the "wet garbage" or organics, which fortunately did include the diapers produced by their third child, still a baby. Still, the smell in their garage got pretty bad, and there was one vivid shot of maggots.
They weighed the wet garbage, and they came up with 320 pounds of it over the 90 days.
They ended up with some 83 bags full of garbage.The 90 days included Halloween and Christmas.
They gradually did make some efforts to diminish their garbage use, and by the end of the film they had plans to conserve more. (But the text at the end of the film did comment that they had a fourth child.)
Interviews with a number of specialists in recycling made the film quite interesting, if not exactly cheerful. Consumerism is making a mess of things, no doubt about it.