Weddings Can Be Eco-Friendly and Low Cost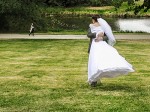 You can have a wonderful wedding, full of joy and love, for very low cost and in a very eco-friendly manner. I know, because my husband Kelly and I did it. It takes some planning, but it's well worth it.
First, decide how many people you want to have at the actual ceremony. One way to save is to have a small wedding. You could have the ceremony privately and have a big party or reception that evening or a few days later.
We wanted to have many family members and friends with us when we exchanged vows, and we ended up with 135 guests. We found a place to hold the wedding that cost nothing, and I suggest you do the same or at least find a low-cost spot. If you want to be a in a church, the charge can range from free (especially if you are a member) to many thousands of dollars. According to the Bridal Association of America, the average cost for a wedding location is $435.
What about getting married outdoors, at a state park or other lovely spot? You would have to pick your season, of course. My husband and I got married overlooking the Pacific ocean, in the yard of his sister's home in northern California. Our backup plan in case of rain was to crowd everyone into her fairly large house, but luckily we didn't have to do that.
You can save on minister's fees by asking a friend to become an ordained minister through the Universal Life Church. It's free to become a minister who is authorized to perform weddings, but be sure your locality accepts these credentials. We did a variation on this: my husband's father, not himself a minister, performed the ceremony, and we later signed papers with a friend who was a minister of this church.
We made our wedding invitations, with photos of us as children, a map to the location, and a request that people phone us to RSVP. This cost almost nothing and was very personal.
For my wedding gown, I was lucky that Kelly's sister is an extraordinary seamstress. I sewed a simple white cotton gown and she did lovely embroidery around the bodice. She also crocheted an elegant silk overskirt, which I later wore over other clothing. Kelly wore a pair of slacks that I sewed, with a Mexican shirt also enhanced with his sister's handiwork. Photography was done by friends and family. The food was a potluck. Family members made the large wedding cake, a carrot cake with white frosting. We set up tables and chairs all around the yard.
For our honeymoon, we went camping in the mountains of northern California. I can still hear the rushing water of the river we camped by, and I can see in my mind's eye a narrow canyon we hiked up for hours.
If you want a large church wedding with limo, masses of flowers, huge catered reception, expensive gown you'll never wear again, and all the rest, my experience may not help you much. But in that case, at least do online research to cut your costs and make the most eco-friendly choices. Be very cautious about going into debt.
It's not the wedding day that makes the marriage; it's the years of love and patience that go into the relationship between the two partners. Kelly and I wrote in our vows to consider each other's needs and wishes as equal to our own. Now, decades later, we are still working on that!
Here's a book I found at Amazon for those who want to save money without having quite the simple wedding we did: