Overcome the 2 Big Problems of Jerusalem Artichokes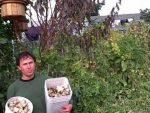 Jerusalem artichokes are easy to grow in your garden and they are delicious both raw and cooked. There are two big problems with them, though:
When you are growing them, they try to take over the universe.
They are famous for the flatulence they can produce.
I spell out solutions for you.
Native to eastern North America, Jerusalem artichokes have been eaten for centuries.  Native Americans grew and traded them before the Europeans arrived. They later became popular in Europe and other parts of the world.
Three Videos on Jerusalem Artichokes
I watched several  Jerusalem artichoke YouTube videos before selecting these three. While the titles of the first two programs start with the word Harvesting they also discuss growing.
A few comments about each video:
Harvesting 25 Pounds of Jerusalem Artichokes from 2 Plants: I gotta say this guy is ultra-enthusiastic but once I got used to his style, I enjoyed and learned from this video. The plants are right next to a kind of fence and I was wondering if the neighbors were going to be gifted with lots of Jerusalem artichokes in their yard but then I noticed a cement barrier. I liked this video particularly for his showing how much food he got from a very small space. The Jerusalem artichoke yield per plant can be fantastic.
Harvesting Jerusalem Artichokes: A program from Oklahoma State University Extension, this one shows harvesting also talks about planting and eating. (It ends with the man referring to a cooking video but I didn't find that one.)
How to Cook Jerusalem Artichokes covers soups, roasting, grating into salads, and more. The measurement for the soup stock is metric, but it doesn't matter if you don't know exactly how much liquid he is recommending because soups are forgiving that way. The speaker warns of the second Jerusalem artichoke problem. It's flatulence and he says it's ten times worse than baked beans. He doesn't seem aware of things you can do, but I cover several further down this page.
Where to Buy Jerusalem Artichokes
You may be able to get them at a health food store, food coop, or good grocery store in your area. If you know someone growing them, they might give you a start. Best to get a variety that are on the smooth side rather than the lumpy, knobby ones, as smoother is better for cleaning and peeling. Get organic if you can.
Here are some sold via Amazon.
 Jerusalem Artichoke (Organic) 1.5 Pounds Jerusalem Artichoke (Organic) 1 Pound – Hardy Red Fuseau Variety – by Yumheart Gardens 1 LB Organic Jerusalem Artichoke Tubers By Yumheart Gardens For Planting or Eating – Sunchokes – Sunroot –
&
Plant Your Sunchokes: Avoid the First Problem By Choosing Your Spot Carefully
The first big problem with Jerusalem artichokes is that they come back year after year. You could call them invasive. If you don't dig up all the tubers, no matter how far down they have gone into the soil, or how far on the edge of your plot they have grown, in the spring you will see new plants starting. And guess what? It is practically impossible to find every single tuber. I did read one blog post where someone got rid of them by placing a tarp over the area for a couple of years, and another blogger suggested cutting off the stalks as they came up.
It's also possible for the seeds made by their pretty yellow flowers (much like sunflowers, which they are related to) to be blown around by the wind. Then who knows where they will go? I suspect that's what happened in this photo I found on Flickr: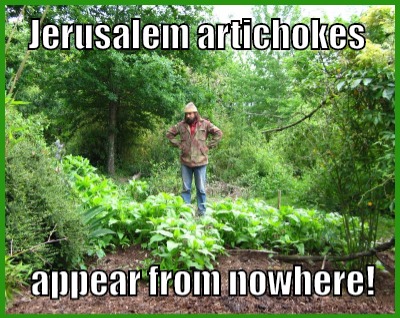 You may think that I am going on rather long about this characteristic of the plant, but it's something to plan for.
Trimming the flowers before they go to seed is a good idea for control too. The flowers look nice in vases… here's a painting of Jerusalem artichokes, not sunflowers, by the impressionist painter Claude Monet. Jerusalem artichokes became very popular in France, where he did much of his work.
  Jerusalem Artichoke Flowers Artwork by Claude Monet
&
When you choose the spot in your yard where you want to grow Jerusalem artichokes, consider these growing tips:
They often grow more than 8 feet high and so may shade any plants to their north.
Because they grow high, you may want to tie them up later in the season so they don't topple over in a heavy wind, thus exposing their tubers.
Or if you trim the plants, they will put more energy into the roots.
You won't need to water them heavily, as in many places the rain will provide enough moisture. If it's quite dry, of course do water them sometimes.
They like rich, well-drained soil, so you could add compost or well-rotted manure, but even that isn't totally necessary. I'd suggest soil that is not too clayey — they should grow okay but they will be much harder to scrub clean.
These are sturdy plants. Diseases and insects don't tend to bother them.
If you haven't grown them before, or if you have a small yard, and specially if you are a renter, I suggest growing Jerusalem artichokes in containers.
I've recently become a fan of container gardening, and here you can find all the articles on this site that are tagged container gardens.
I haven't tried containers with Jerusalem artichokes, as we have a good spot for them in between the back of our driveway and our clothesline, with a high rock wall on the property line.
Here they are, in a photo taken in late May. We've got 11 plants, which came up from three or four large organic tubers I bought at our local food coop and cut into pieces. That must have been back in March. I planted them down several inches, maybe 3 or 4. It took them a while to come up, but they all did.
Harvesting Jerusalem Artichokes
You'll get the best flavor if you wait to harvest your sunchokes until there has been at least one freeze in your garden. The flavor is said to get sweeter and the dreaded flatulence effects are said to diminish somewhat.
You can harvest them by pulling up on the stalk of the plant and if you are strong enough (I'm not always), it will come out with some of the tubers and you'll see more in the soil. Other times, people lop off the stalks with some sturdy tool and then dig with a shovel, a spading fork, or even a trowel. I think I'll use this method in the future and by clipping off the the stalks maybe 6 or 8 inches above the ground, it will be easy to see what remains in the garden.
What to do with the stalks after harvest, when they are brown and dry? They make good kindling. If you have a compost setup, try them in that. If they are too tough for it, you could alternatively burn them and work the ashes into your soil somewhere. We are experimenting with a kind of permaculture plan where a section of our yard has things like this so I will just toss ours there.
Storing Jerusalem artichokes
This is best done right in the garden where they grew, unless you live in such a cold climate that you'll never be able to dig them out until the spring! If that is the case, maybe mulching them would let you get at them over the winter.
Alternatively, you can store some in a plastic bag in the refrigerator but they can get quite disgusting if you forget about them. Another method is to store them in dirt in a bucket in a garage, basement, or other unheated location over the winter.
Survival Garden Benefits of Jerusalem Artichokes
Because it's almost impossible to stop growing sunchokes, they would be excellent in a garden being planned for just-in-case scenarios. You get a lot of nutrition from the space they take up. Everything I've written here about growing them makes them fit naturally into the category of survival garden plants. What else would go in that category? Winter squash, potatoes, and sweet potatoes come to mind. I'm sure there are many more.
Preparing and Eating Them
I had to laugh as I was reading articles around the web and saw how many people claimed that Jerusalem artichokes were easy to clean. They aren't as easy in my experience as a lot of other root crops, but there are ways around this. First, don't grow them in soil that has a lot of clay in it. Then, when you harvest a few for a meal, if you let them dry out a while, much of the dirt will brush off. You can also soak them for a few minutes and the dirt is likely to dissolve.
Some people eat the skins, while others prefer to peel it off. For me, it depends on how I am using them. Raw, I tend to prefer the skins off, and here are some good peelers. If you are still struggling with a peeler than has been in your kitchen drawer forever, you might benefit from one of these. I admit that description fits me and I plan to get one of these soon.
 OXO Good Grips Swivel Peeler Kuhn Rikon 3-Set Original Swiss Peeler, Red/Green/Yellow Messermeister Pro Touch Fine Edge Swivel Peeler, Black OXO Good Grips Y Peeler
&
The flavor of the Jerusalem artichoke is hard to describe. People say nutty or like water chestnuts. Some people rave over it but I also found a number of mentions online of people who love them but say nobody else in their family will eat them. That may be due more to the hazards of flatulence, which I'll be discussing a little further down.
My usual way to eat them is raw, sliced or chopped into salads. But this winter I'll be experimenting more with cooking them.
Jerusalem Artichoke Recipes
Here's a really good recipe: roasted jerusalem artichokes. Jamie Oliver, a well-known British chef, has this on his website. You can vary what you add to them. A nice thing about roasting them is you don't have to peel them.
Jerusalem artichokes in soup are popular and I came across this recipe for a spiced soup. That webpage includes an amusing discussion of the flatulence issue.
Allrecipes.com has several appealing recipes… that's a link to the page listing them all.
How to Minimize Flatulence
In 1621 Jerusalem artichokes were described as more fit for swine than men. Many people who have experienced digestive problems might agree. It isn't only flatulence that can occur… the gas can be quite painful. Some lucky people never have a problem.
So, what can be done? Beano, an enzymatic solution to some of the flatulence in beans, doesn't work on Jerusalem artichokes.
Wait until after one or more frosts before harvesting and eating. The cold has a beneficial effect on the chemistry of the plants.
Eat a very small amount daily and as your body becomes accustomed to them, you should be able to eat more. Increase the amount gradually.
If you are into lactofermenting vegetables, it seems to make a signficant difference. Here's a article reporting in detail on some experiments that were successful. I may try this, as I have been meaning to do some lactofermenting. The comments on this article are worth looking through for more ideas.
There's a book called The Curious Cook, by Harold McGee, which includes a chapter titled Taking the Wind Out of the Sunroot. That's an Amazon link and I ordered the book myself. His approach has to do with cooking them at low temperatures for many hours.
Health Benefits of Jerusalem Artichokes
The Jerusalem artichoke article on Wikipedia has the USDA nutritional chart. Scroll down to the end of the article. (It's an interesting article otherwise, by the way.)
Ironically, the very cause of those awful farts is also beneficial.  Inulin has good effects on Type 2 diabetes and other conditions. (No, I did not misspell insulin. Inulin is something else.)
Here are a couple of quotes from Stephen Nottingham, who co-wrote a technical book, Biology and Chemistry of Jerusalem Artichoke:
Its storage carbohydrate is inulin instead of starch, which breaks down into fructose sugars (instead of sucrose or glucose). This means it is valuable as a low-calorific food (inulin extracts are increasingly added to low calories foods), is useful in diabetic diets (neutral effect on blood sugar), and can be utilized by the "good bacteria" living in the lower intestine.
Human digestive enzymes do not target inulin. Around 89% of the inulin and fructooligosaccharides that we consume, on average, remain intact in the small intestine. As it is not digested, there tends to be a lot of it in the large intestine after eating a meal rich in inulin. However, none reaches the stools, and only a small fraction occurs in the urine. This is because inulin is completely fermented by the microbial fauna in the large intestine, especially by bifidobacteria and lactobacilli. The digestion is accompanied by the production of hydrogen, carbon dioxide, and other gaseous products. This leads to an undesirable side-effect of eating Jerusalem artichoke and other inulin-rich food: flatulence.
Inulin is called a pre-biotic, a substance that feeds the probiotics. Here's an article with more details.
Well, I didn't set out to write a book, but this is the longest blog post I've ever done. So far. Here are a couple of books:
 Jerusalem Artichoke: Production and Marketing Biology and Chemistry of Jerusalem Artichoke: Helianthus tuberosus L.
&