Receiving Food Commodities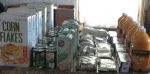 Ever since we moved here (Silver City NM) three years ago, one of our neighbors has been encouraging us to go to the three commodity distributions that take place near our house. We figured we made too much money and never did. But after my husband Kelly and I were talking about how our business income has dropped recently, I decided to check out the seniors distribution that took place this week on Tuesday at the local rec center. I don't know how old you have to be to count as a senior but whatever it is, we are well past it!
There were about thirty people in line when we got there in mid-afternoon. We joined the line in the chairs provided and got to chatting with the woman in front of us. When we said we hadn't been before, she suggested we go up to the front and ask what papers we would need. That was a good idea as we needed to show last year's federal income tax form 1040 and our gross amount (including social security) needed to be less than $21,398. That was for two seniors and I don't know if it would be different in other places.  Anyway, we went home and found our tax form. We were below the amount. Kelly decided I could wait in line without him, so I went back.
We also needed to show a picture ID for each of us and one or two utility bills that would show we lived here. Easy enough. When I got back, the line was shorter and there were several more people at the end. I joined the line and had fun using my Spanish to chat with a few people around me. I admitted, "Tengo un acento fuerte pero puedo platicar" (I have a strong accent but I can chat) and was pleased when the bilingual people agreed with each other in Spanish that I wasn't too bad! Most of the people in line were Mexican Americans but there were also some "whites" as they call us here.
When I got up to the desk it was quick to get set up for a year based on the paperwork. This particular commodity distribution takes place on the second Tuesdays of every other month. I was instructed to drive my vehicle over to a U-Haul truck out in the parking lot, where four identical boxes were put in the car for me. There was also another box with cheese and powdered milk. Everybody was given their boxes with no choice of contents.
Once I got home, Kelly and I unloaded the boxes and spread out our loot on the dining table. It was a surprising amount and variety of food. Some of it, like the boxes of processed American cheese, wasn't appealing to our tastes or eating habits, but we found friends to give those things to. I was curious how much food we had received in dollar value, so I made a list and yesterday checked the prices at a nearby grocery story. It worked out that the value of what Kelly and I had received was approximately $170 and the total of what we kept for ourselves was about $120. More than I had expected! That's $60 a month worth of usable food for our household, since this event is every other month.
Well, what DID we get at the rec center? 
8 boxes of corn flakes, 12 oz each
8 boxes of dry spaghetti, 16 oz each
16 cans cut green beans, low sodium (Del Monte, one of the few things in a brand I recognized)
8 cans lite mixed fruit, also Del Monte
4 boxes of 32 oz processed American cheese
8 boxes of 1 quart 1% milk, not needing refrigeration
2 bags of instant nonfat dry milk, 26 oz each
8 bottles of orange juice, 2 qt.
4 bags of dried pinto beans, 2 lb each
4 pouches of beef stew, 24 oz.
Our neighbor tells us that there are two commodity distributions that take place near us each month, one at the Knights of Columbus and the other at a place called the Commons. Here is a bit of commentary from a newsletter I get from the Commons:
"Commodities" or "Government Food" has been called TEFAP (The Emergency Food Assistance Program) for a number of years. In a typical year the US Government contracts for food made from commodities in great supply… No one seems to know why the government contracts for what finished product. Prices to farmers are buoyed and the product is available to lower income people through food pantries.
A ripple effect of trade wars:
Due to tit-for-tat retaliatory tariffs, agricultural food commodities took it hard with significantly less exports."Trade aid" of some $12 billion dollars was appropriated to soften the blow. As part of the aid package, contracts for food manufactured from commodities have gone through the roof. Consequently we will be seeing a huge uptick in TEFAP food coming through our food pantries. So far it's looking good. At our September 26th distribution there were decent looking frozen catfish filets and shredded cheddar cheese. We're told that's just the tip of the iceberg. If needed, we may physically reconfigure the pantry on distribution day.
We had thought that everyone got exactly the same things but there were some slight variations. I was among the last people to go through the line, and our neighbor was one of the first. Where I had orange juice and corn flakes, he had tomato juice and another kind of cereal. So that evening we did a little swapping. 
Later this month, Kelly and I will go to the other two distributions and see what they offer. I don't think you have to be a senior for them, and I believe that only one of the two requires proof of income. Of course I hope that our business income picks up but in the meantime, this will help.