A Second Food Commodities Experience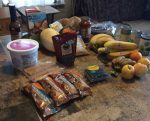 A couple of weeks ago we had our first experience of receiving food commodities for seniors, and this afternoon we went to a different place for another one, also for seniors. This event, run by the Gospel Mission here in Silver City, NM, is monthly early in the afternoon on the third Wednesdays of every month at the Knights of Columbus hall, since moved to one of the churches, I think the Mormon one.
I liked how this one went. My husband and I signed in and were given the number 55 as we were the 55th household to sign up. I don't know exactly how they determine financial requirements, as Amy Wagner, the director of the Gospel Mission, knows me and had heard me chatting the other day about what we did for the commodities we got at the local recreation center. I think she said that people self-define their needs. Anyway, after we signed in at about 12:30 PM, we went and sat with our friendly neighbor who had told us about the three commodities distributions (one more coming up in a couple of weeks) that he goes to. He told us to bring our own bags or boxes for this one today. It was fun to chat with him and the people sitting around him, and Kelly talked with a musician he may play music with sometime. Both of us got to use our Spanish a little.
The truck arrived around half an hour later, and as we were among the last people to arrive, we were among the last to go through the line, just before 2 PM. it was set up out in the parking lot on a row of tables, with volunteers (brr — it was chilly and windy, thanks, volunteers!) behind the various piles of food. They offered us different things and we had our choice of what we wanted, which I did prefer over just receiving stuff we might never use as we had at other distribution. The volunteers at each station told us how much we could have, though when I asked for more bananas so I could dehydrate them, my request was accommodated.
We passed on the white bread and some other things we wouldn't eat, but quite happily took those bananas and other fresh produce: 3 winter squashes, 2 apples, 2 oranges, a package of blueberries, and a big bag of golden baking potatoes. We got a few canned goods–some organic–and a bin of low-fat cottage cheese. I don't eat a lot of dairy but I've been more vegetarian than vegan lately so I went for it.
Last time, I made an exact list of everything we got and compared it with prices at one of our local grocery stores, but this time we didn't do it, as everyone got a different assortment depending on their tastes. Kelly made a rough guess that we got about a hundred dollars' worth of food. Well worth the time and effort!
UPDATE 2020: Our favorite commodities place has become one at The Commons on last Wednesdays of the month. We did sign up for it. I liked it when we could walk around their large room and choose what we wanted, one from this table, two from that, etc. With the coronavirus, now they just put a pre-packaged box in your car and you can come home with lots of stuff you don't want. We trade it or give it away and still end up with a decent amount of good food.