Silver City, NM
December 2019
Dear Friends and Family,
Merry Christmas and Happy New Year! We hope this finds you in good spirits. We've had plenty of good times in 2019, and we've both done a lot of creative work we'll report on below. Of course, living in our world does have its challenges too. But we both remain in good health.
The critters: Misty, our adopted Mexican street cat, is 15 now and still bosses the dogs around. Nicky is about 8 and Lilly about 3, and they have a lot of fun together. Lilly is the most athletic dog we've ever had, and we play ball with her in our driveway twice a day to wear her out. The dogs did encounter a skunk one early morning in our yard… long-haired Nicky got the worst of that. Fortunately this was several days before we had scheduled an open house/gallery show of Kelly's sculpture here and we were able to clear the air in time. Now we sniff the yard before letting the dogs out first thing.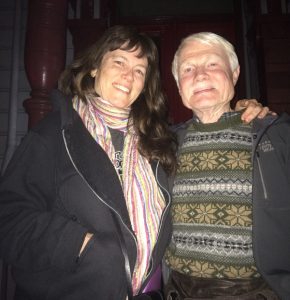 Kelly made three short trips this year. In March he flew to San Francisco to be with his daughter, Ajila, for her 50th birthday. If she's half a century, does that mean we are old? No answer needed! They also went up to Sonoma County and saw family there, including Kelly's older sister, Alexandra, and her son Lucas. Another of Kelly's sisters, Molly, has two sons living at a nearby winery, visited too. This all happened soon after some massive flooding in the region and Kelly and Aj were lucky to be able to get through for the visit.
Kelly's second trip was to an art show, Art in the Park in Loveland, Colorado, for several days in August where he displayed many of his wood sculptures. He went with a friend from here, Craig Wentz, who does lovely nature-based paintings as you can see. The public liked their work but people just weren't buying. Oh well, both guys felt they learned a lot. You can see more of Kelly's sculpture at hartworks.com.
We both went on the third trip, to Santa Fe over the long Labor Day weekend. Rosana's sister Marcia and her boyfriend Michael came from the East Coast; Marcia's son Isaac and his wife Arielle drove from near Grand Junction, Colorado, where they live and work; and we drove from here. (A good friend stayed in our house and took care of the animals while we were away.) We all stayed at the Hilton for several nights, thanks to Marcia's hosting, and we found a lot of good restaurants nearby. It was great fun, with lots of conversations as well as exploring downtown Santa Fe.
Kelly checked out quite a few galleries there for possible venues for his art, but there is a particular Santa Fe look and his art doesn't fit it. Where did he strike the jackpot for a large art gallery with space to show his wood sculpture? Right here in Silver City! a)Sp"A"(c)E is a 4000 square foot Gallery/Studio that represents "emerging outsider, outlaw, outside-the-loop, out-of-the-woodwork, one-of-a-kind, one-at-a-time, underdog and under-the-radar startling art."
It took Rosana most of the year to write her third memoir, LSD and Beyond: How Being a Research Subject Transformed My Life. In a nutshell, she took LSD just after graduating from Stanford in 1964. She describes the experience and then most of the book goes into detail about the many ways her life improved after the LSD. It's free to read if you have Kindle Unlimited, and otherwise, it's inexpensive as kindle or paperback. Her next book will be Science Fiction Daughter: Growing Up with Cordwainer Smith. You can keep track of her books at zanahart.com or under her writing name Zana Hart at Amazon.
Silver City is a great place to make friends, and we share lots of meals with special people. Rosana is wrapping up a term on the vestry of the Good Shepherd Episcopal Church, where she is the webmaster. With all of us getting older, sadly there were a couple of deaths among people we know here. Rosana keeps up with more distant friends via Facebook and has been in touch with friends from several eras via her dream life too.
Please let us know how things are going with you!
With love,
Rosana and Kelly