My Old-Hippie Cooking Owes a Lot to the Chinese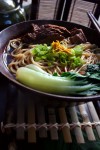 I was looking over some Chinese recipes the other day… It got me thinking about how much my own cooking is derived from Chinese methods.
One of my favorite things to cook is a big stir-fry with brown rice:
I put on the brown rice, using about 1 cup of rice and 2 1/4 cups of water. I cook it on a very low temperature for about 35 or 40 minutes and then without opening the lid and letting the steam out, I turn it off and let it sit for  another 10  to 20 minutes. Actually, that method of letting it continue to cook is something I learned in France. It saves energy and makes it less likely your rice will be stuck to the bottom of the pan. I also sometimes put a small dollop of olive oil in the pot to help avoid sticking. (Any leftover rice finds many uses.)
UPDATE: See my new favorite way of cooking brown rice.
While that is cooking, I start a large red onion simmering in some olive oil. Red onions, like all brightly colored food, tend to be better for us in their health-inducing qualities. As for the oil, I use extra virgin cold pressed, and the only oils I keep in the house any more are olive, coconut, and walnut. Haven't bought canola in several years now.
But I digress. And I will get back to the Chinese soon… If there are things in the garden that I can use, I would have already gathered them. If I'm lucky that would have included some snow peas and a kind of squash we've been growing: Zuccino Rampicante. The link takes you to its page at  Baker Creek Seeds, where we get many of our veggie seeds.   It tends to get long — that one was 46 inches — more than fat like regular zuccini does.
Back to dinner. Next I rummage in the vegetable bin of our refrigerator and see what appeals to me. It's often summer squashes or that zuccino if we have it, carrots, broccoli and/or cauliflower, celery, maybe some peppers or mushrooms. I don't tend to use green beans this way as I like them better more thoroughly cooked, as in soups. Sometimes I choose one or two veggies, sometimes a whole bunch.
All that gets chopped up, roughly in order of  how long it takes to cook, and tossed in the pot, maybe with some fresh or dried herbs. I often use curry powder — okay, getting away from Chinese — with some extra turmeric since it's very good for you. Here's a blog post I did about turmeric.
For protein, when I originally wrote this post I would have used little bits of meat that I had stored in the freezer, or a little ground beef put in with the onions, or some grated cheese on top.  Now that I eat mainly plant-based, I would use tofu or I might use some beans that I had already cooked.
This is served with tamari, some of Kelly's hot salsa that he makes in our bread machine, and maybe a salad. I usually try to make enough to have leftovers for breakfast.
So the main Chinese elements are rice, quick stir-frying, and cutting food into small pieces. (A couple of things you could encounter in Chinese restaurants do not enter my cooking: white rice and MSG.)
I've been cooking this way for decades now.