From Solitary Baby Chick to A Flock
Our solitary baby chick did just fine in the days after we got her. She's a golden colored Buff Orpington and we've named her Sunshine. I wrote about her beginnings with us already.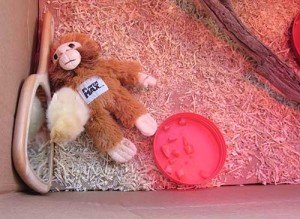 Here you can see her favorite position, between  the mirror and the stuffed animal. That red jar lid had pieces of tomato in it. She had a great time pecking at them. Once I saw her shake one like a puppy would a toy. The stick you see gave her something to climb around on.
We had ordered eight more baby chicks the day we got her. Because we wanted them ASAP, we ended up with a different selection this time. We got three Golden Buffs — no relation that I know of to Buff Orpingtons; they just share the same color. We got one male and two females. Then we ordered five females from this catalog page at mypetchicken.com — they tell you it will be potluck as to what you get, and you will have to figure it out yourself. Umm… we haven't done that completely yet!

So the phone call came early Wednesday morning from the post office, and my husband Kelly took a turn to go get them. I was on pins and needles while he was gone. Would they all be fine? He had a big smile when he got back and reported that there was a lot more cheeping coming from this box than the one last week. We opened the box up, camera at the ready. It wasn't immediately obvious, but all were alive and indeed very lively! As that first day went on, it was evident that they were way more active than Sunshine had been last week. Made us wonder how traumatized she had been.
Speaking of traumatized, Sunshine was not immediately thrilled to have eight little interlopers move in with her. She tried repeatedly to get out of the box! Below, she is in the bottom of the picture, watching the newcomers.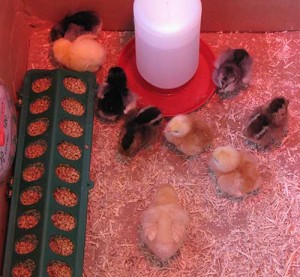 As I put each baby in the box, I checked for pasty butt — nobody had it then, but one did the next day and squirmed as I cleaned it off. I also introduced everyone to the water, and they got that idea easily:
Nobody napped much that first day; Sunshine hadn't either, on her first day. Once when I checked on them in the afternoon, everyone was busily walking around fast in the box. It reminded me of walking through a busy train station where everybody is in a hurry to get somewhere! Just as we done with Sunshine, we picked each one up several times a day and gave them a short turn in the greenhouse bed that that box sits on.
Yesterday morning we got out our dog X-pen, a kind of open fencing which perfectly fit along the sixteen feet of the greenhouse. We put an old sheet over it, so the babies couldn't get through the holes in the fence, and pinned it on top with clothespins. Kelly brought in a couple of 2x4s to hold the sheet onto the dirt so the chicks wouldn't get out under it. He secured each end too. Then we put the chickens out there, one by one.
They loved it. So we cut a door in their box in such a way that we can close it up at night, and made a little ramp. With the heat lamp keeping the box about 95 degrees, and the greenhouse about 85, warmer in the sunny spots, they choose where to be. It's such fun for us to watch their antics! They can run pretty fast already, at about five days old.
Sunshine is getting used to the flock. Last night she even curled up with them. Here she is surrounded by the other buff-colored ones: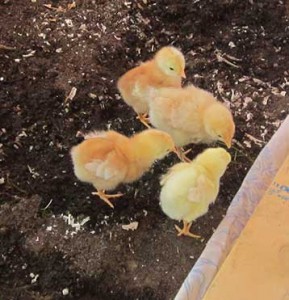 We have figured out that the two little brown ones who have two white stripes down their back are Easter Eggers… here is the page at mypetchicken that shows a chick (in the bottom row) with their distinctive markings. But we are still clueless about our three black ones. Any ideas?