Simple Living Thoughts after Traveling in California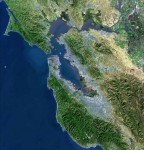 How dependent we all are on fossil fuel. It's easy not to think about that much in daily life at home, but we recently took a road trip to visit family and old friends. Aside from our visits with them, we got the flavor of life in our society: some encouraging things in an utterly unsustainable context.
From our home in Colorado, we went through parts of Utah, Idaho, Oregon, California, and Nevada. (We drove about 4,000 miles in a month on the road, and we will offset the carbon dioxide we put into the atmosphere at http:/www.liveneutral.com/calculator — I just checked and the cost is only be about $20. Not that I think carbon offsets solve all problems, but I prefer to do it anyway.)
The unsustainable context first, and then the more encouraging bits: Driving on the California freeways, down I-5 and later going futher south on 99, it's so evident how heavily used our highways are, both for people going places and for things being transported. We sure did see a lot of Wal-Mart trucks, but I'm not picking on them; so many trucks were full of who knows what!
We had been in Sebastopol, California, where we used to live. The most grueling day of the trip was going from there via Vallejo to Livermore and down into the Central Valley on 99. We stopped in Pleasant Hill — where Kelly had graduated from high school — to have lunch with a friend, and the endlessness of life in the Bay Area was pretty overwhelming.
But there were plenty of bright spots too. Just about everyone we visited had gardens, and one couple had a gardening setup that gave them just about all of their produce. A few people had some level of photovoltaics installed and others were thinking about it. It seemed to me that caring for the environment came up in conversations more than it used to. On the highways, we saw a lot of Priuses. Several of our friends and family members use bicycles quite a lot.
I did have one disquieting conversation with a 30-something son of an old friend. I asked him what people he knew thought about the environment. He said bluntly that they didn't care. It wasn't on their radar screen. They were too busy getting ahead.
Simple living has a long way to go.