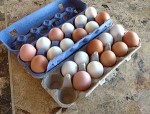 Our eight hens are laying more eggs than we can eat. (This may not go on forever… one of the girls is broody now.) So I decided to try freezing whole eggs in our freezer, for use in the coming months, even up to a year. I read books and websites, and people agree that the eggs work fine after you thaw them for use.
So here is how I am doing it:
[1] Select very fresh eggs to freeze. If you have your own hens, or if you can get eggs from someone who does, this method will work. Writers disagree about HOW fresh the eggs should be, from laid that very day to several days. I think that eggs that are several weeks old, say, wouldn't have the quality of the newer ones when you went to eat them. I'm going to experiment and see what I notice.
[2] Being sure the shells are clean, crack the eggs into a measuring cup or a bowl. One cup is said to be five medium eggs. Since our hens lay eggs from tiny to gargantuan, I broke them into a Pyrex measuring cup at first. By the way, you can't just freeze eggs in their shells because the liquid would expand while freezing and break the shell.
[3] Break the yolks with the tines of a fork, add 1/2 teaspoon of salt per cup of eggs, and mix very, very gently so you don't get much air into the eggs. You need the salt to help the yolks retain their quality. Alternatively, you can use one tablespoon of sugar instead of the salt, for eggs you would be using for baking. One source I read mentioned honey instead of sugar as working as well, but I don't quite see how I would get the honey to mix with the eggs without getting more air into the mix than I would want to.
[4] Put them in freezer-safe containers. I use small canning jars and small plastic bags, with some air space to allow for expansion. Whatever you use, only put an amount you will use at once in each container. Label them with dates, how many eggs, and with what you added. Freeze them.
[5] When you are ready to use them, thaw them for just a few hours in your refrigerator before use.
More Information About Freezing Eggs
There are other methods I haven't used, and of course various opinions…
The information on this page at What's Cooking America turned up on other websites as well, so people think it is an authority.
My favorite page on freezing eggs was this well-illustrated one from a blog, Chickens in the Road.  The freezing part is after the sassy comments about chickens!
The National Center for Home Food Preservation has a succinct summary.
The book I turned to was my well-worn copy of The Encyclopedia of Country Living, by Carla Emery.
What If Your Electricity Goes Out?
I keep both the freezer compartment at the top of my refrigerator and my freezer close to completely full all the time. If I don't happen to have enough food to do this, I fill large ziplock bags about 3/4 full of water and put them in. And if the power does go out, I resist the temptation to keep opening the freezers to see how things are doing.
If you did have frozen eggs that thawed, I would suggest using them up immediately or throwing them out. Refreezing eggs seems a bit dubious to me. But you could invite people over for a big batch of scrambled eggs.