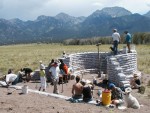 My husband Kelly and our close friend Peter Rice, with some help from me, built an earthbag home in Crestone, Colorado. We used thousands of bags meant to hold rice but they had been misprinted and we got them as seconds. Into them we put scoria — small volcanic rocks commonly used on lawns in dry climates. They are great insulation. We plastered the house, inside and out, with papercrete, which consisted of recycled newspapers, junk mail, water, and a small amount of cement.
The house has a wonderful handmade quality. Here's a page on the earthbag building site that Kelly runs with our friend Dr. Owen Geiger about the earthbag house we built.
Our house is 1250 square feet or so, but much smaller structures could go up very quickly and inexpensively. You can fill the bags with dirt from the site. We built this in a county that did not have building codes, which certainly helped, but such a house can be built in other places.
(As I tell on the About Us page, we sold the house to friends. Every time we are in Crestone, we visit them and see what they have done lately to the place.)
Here is a snippet from the DVD that Kelly produced about the process.
Once in a while the message will come up that the video isn't available… I don't know why it says that because it is. If that happens, just go directly to the video on Youtube at http://www.youtube.com/watch?v=hJc2traH6N4 and there are also a variety of videos by other people on earthbags given in a list there.
Update: Kelly has since written a book called Earthbag Architecture, with many photos and lots of information.