Experiment with Beeswax and See How You Like It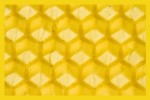 Have you tried beeswax?  For purity it sure beats paraffin,  which is processed from sludge that comes from crude oil.  Here I'll focus on three main uses for beeswax:  candles, lip balm and other skin care, and then a selection of miscellaneous uses.
When I did a search on Amazon for the word beeswax, I was surprised to find over 20,000 listings! (Admittedly, a few of them were books using the slang expression "None of your beeswax," but most of them were for actual products.) There are dozens and dozens of uses for this versatile substance. As a natural material found in beehives, it has health-enhancing properties and it's very practical for tasks around the house. Quite a few of these uses go back many centuries.
1. 100% Pure Beeswax Candles
Why use these candles? They have advantages over the more common paraffin ones: they burn more cleanly, not leaving tiny bits of soot (and toxins) around as paraffin can. Also, I was interested to read that the beeswax candles can generate negative ions, which clean the air. People report that burning these candles helps with allergies to cats and other stressors. Here's a good article about that.
These candles typically have a sweet but faint honey-like smell, and they burn very cleanly. After all, the wax is made by the worker bees, secreted from their abdomens, while paraffin is a manufactured chemical product.  These candles are dripless if there isn't a draft from a window or ceiling fan. Because of the relatively high temperature at which the wax burns, the candles burn slowly.
You can get high quality beeswax candles online for good prices. Do look for ones that say 100% pure because if it isn't 100% pure it could legally include quite a bit of paraffin, at least according to regulations in the U.S.
For a good example of 100% pure, here is a candle in a glass jar from the Bluecorn Naturals company. I noticed that on the box it says "Paraffin and lead free." Well, I've explained the first one but why is lead an issue? Candles made in some countries (though not the U.S.) may use metal such as lead in their wicks.  
Make Your Own Candles
It's fun to roll your own — I'm talking about candles here! This  a project that children can do with you. The simplest way is to get some sheets of beeswax and some cotton wick. Roll each sheet around a wick. If you want to get into more intricate candlemaking, including heating the wax, see the book I mention further down this page.
I looked at several kits on Amazon and here is one that had a lot of favorable reviews, including for making candles with young children:
Make Your Own Beeswax Candle Kit – Includes 10 Assorted Colored Full Size 100% Beeswax Honeycomb Sheets and Approx. 6 Yards (18 Feet) of Cotton Wick. Each Beeswax Sheet Measures Approx. 8″ x 16 1/4″
2. Lip Balm, Lotions, Soaps, and Other Skin Care Uses
The uses of beeswax for skin care draw upon several of its qualities that have both cosmetic and health-related benefits for dry skin and lips, hemorrhoids, chemotherapy-related sores and more:
It has anti-bacterial and anti-fungal qualities.
It attracts and holds water water molecules, thus being good in lip balms and skin lotions.
It makes a protective barrier on your skin, while allowing it to breathe.
It is often combined with other products since it is firm by itself.
Here are three products for skin care: bars of organic hand-poured beeswax, some in pellet form, and a skin lotion which is about half beeswax but has excellent customer reviews: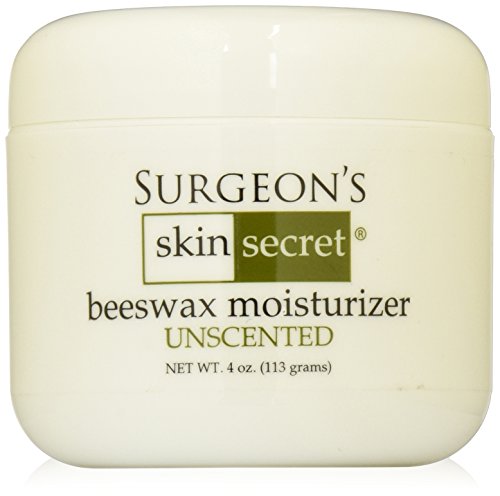 Lip Balm
This set of four tubes Burt's Bees Lip Balm is highly praised by readers. To get the Beeswax ones, be sure to choose that "flavor" on the right-hand side of the page. If you read through some of the hundreds and hundreds of reviews, you may notice as I did that some are referring to other flavors. I was confused at first.
If you'd like to experiment with making your own lip balm, you can get the container tubes inexpensively, and there are recipes in the book below or online for what else to use.. Here's one page I found with a variety of recipes for skin care products to make.
3.  In Arts and Crafts and Around the House
Artistic Uses for Beeswax
Batiking is the process of coating fabric with wax and then dyeing it or painting on it, thus leaving the coated part of the fabric undyed or unpainted. Then the wax is removed, at least mostly. When I made batik clothing back in my young-hippie days, I would iron and iron and iron to get the wax out and onto the paper or old fabric I'd have on the ironing board. Wall hangings were easier, as a coating of wax could remain. I remember using a combination of beeswax and paraffin.
Decorated eggs are often made in a similar way, painting the wax on the Easter eggs. The ones done in Ukraine are famous for this method.
Sometimes people make their own crayons with beeswax.
Some Household Uses
There are a number of uses for furniture, such as rubbing a block of beeswax on furniture, doors, windows, etc., to make things move more smoothly. Also, furniture can be polished with a mixture of beeswax and linseed oil.
If you have shovels or hand garden tools that could rust, you can coat them with beeswax. Also do the wooden handles while you're at it.
You can rub regular cotton or polyester sewing thread on a block of beeswax before sewing. You'd only do that on fabric that the wax wouldn't harm, but it can make the seam more secure.
Beeswax has long been used to condition leather. We keep a can of Huberd's Shoe Grease around. We've used this stuff years for this purpose, and it's great, made with beeswax in part. We apply it with a rag.
Here's a Book with Lots of Recipes and Uses for Beeswax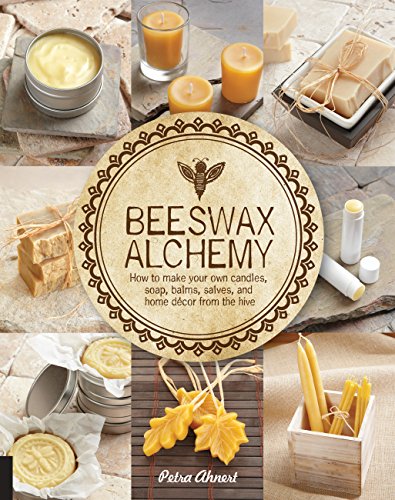 This beautifully illustrated, well done book includes simple to really complex projects. It would be particularly useful for someone getting into projects, but it would be of interest to anyone curious about the many uses of beeswax. It starts out with an introduction including a brief history. Then it covers
the wax
candlemaking
balms and bars
salves, creams, and scrubs
soaps
home products
beeswax art
ingredients guide
So, Do Try Something with Beeswax!
Before I started this article, I wandered around the house to see what beeswax products I had. I found three things: one Burt's Bees lip balm, some Huberd's Shoe Grease, and a small bar of  pure beeswax that I rub on my heels during sandal season. I've had that bar for many years, and it stays fresh and sweet smelling.  I'll soon be trying some candles and maybe I'll make my own lip balms sometime. Use it more in your life, or make things with it!