Homemade Peanut Butter with Our VitaMix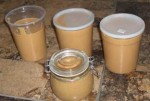 My husband Kelly has been making homemade peanut butter for about seven years, ever since we got a Vita Mix blender, a sturdy workhorse that we've been very happy with. We start with peanuts, lots of them. Kelly likes to buy two different kinds: about half already roasted, and these have been salted. The other half would be raw or lightly roasted but definitely without salt.
Here is our VitaMix. Looking good for seven years of near-daily use. Besides making smoothies, salad dressings, soups, and the like, we use it to grind wheat berries for homemade bread  and of course peanuts like today.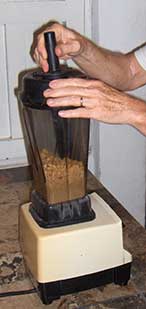 Kelly measures two cups of each kind into the blender. Unlike most recipes for homemade peanut butter, this method does not add oil. The roasted nuts give up enough oil. Then while it is running, he uses the tamper that came with the blender and pushes down at various angles. It makes a good bit of noise!
You can see in the picture on the right that the lower portion is mixed and the upper portion isn't yet. Eventually it pretty much all is, and he stops running the motor at that point, as the machine could technically be burned out by running it too long. We always end up with a few peanuts not completely mixed, no problem.
Here you see the final result.
We find that it  stores for weeks or months in the refrigerator. As you might guess from the volume, Kelly considers peanut butter one of the basic food groups! This is yummier than most any you can buy, and more economical.
Here's a link to a  popular VitaMix blender that costs less new than the roughly $400 we spent  seven years ago: