Top 5 Small Greenhouses Under $65
Have you ever done greenhouse gardening, or wanted to? Small greenhouses are inexpensive and provide you with a fair amount of space. I was looking at greenhouses on Amazon, and the first thing I noticed was that the best-selling ones are really mini-greenhouses, easy to use on a patio, deck or balcony. They would be useful in a small yard too. You could move to another home and these could be taken with you just fine. They are great for starting seeds, for growing seedlings to a larger size before putting them in the ground, and for growing plants.
Simple as they are, they can extend your growing season and quite likely pay for themselves. In a bitterly cold climate you couldn't expect them to protect the plants from seriously below-freezing temperature. They can also  be used indoors. Whether you are new to gardening or experienced at it, these could be useful and fun. They can keep cats out when they are closed up, too!
Here are the top 5 best-selling greenhouses when I was looking at them. Some assembly is required, but it doesn't sound difficult, which may well be why these are so popular.
[1] The Gardman 4-Tier, 27″ long, 18″ wide, 63″ tall
It's no surprise that this one is the best-seller: the image really shows you how much it can hold.  Also, it has by far the most reviews, a good sign. When I wrote this article, it had over five times as many reviews as the second most popular greenhouse.
If I were getting a small greenhouse for my own use, I would get one of these.
It is made of tubular steel that pushes together and it's covered with clear polyethylene. The door rolls up and zips closed. You don't need tools to assemble it, and it has four shelves. Their heights are set but if you had tall plants you could remove a shelf or two. It comes with metal stakes and guy ropes, to hold it in place.
If you use it a lot or over several seasons, you may eventually want a replacement cover and those are available.
[2, 3, 4] Three Very Similar Mini-Greenhouses
The next three are so similar that I'm grouping them together. Hard to tell them apart, isn't it? Or I should say downright impossible from the images. All three of them are the same dimensions, 77 inches tall, 56 inches wide, and 29 inches deep. All three have roll-up doors. I'll explain further down the page why I would choose the first one, the OGrow, if I were getting one.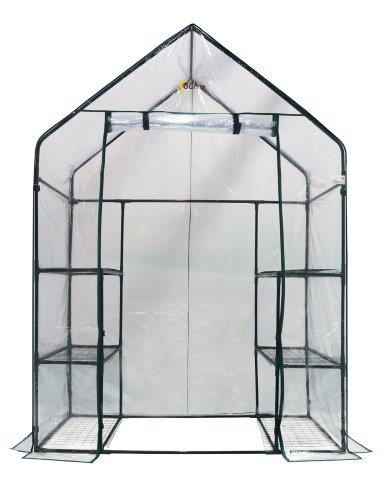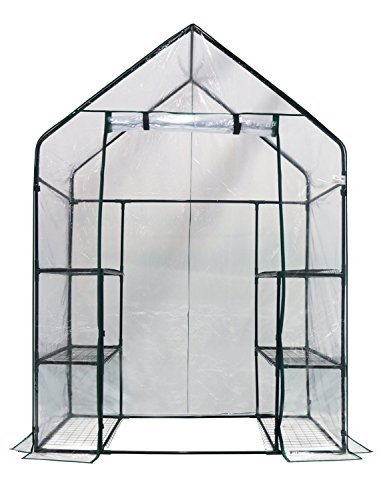 These greenhouses are described as walk-in and it's true that you can get inside them.  Since 29″ deep isn't much over two feet, I'd think of them more as step-in. Some of these items came with prime shipping, others had free shipping but not prime, and some had shipping charges.
These little things are lightweight. They may be vulnerable to winds, so bricks or rocks in the bottom or some sort of tie-down would be a good idea if you have yours in a windy location. Or you could tie them down to the ground in some way; anchors are not included but are easy to pick up at a hardware store.
One difference between these products may be in the number of shelves. Each tier has two shelves, one on the left and one on the right.
The OGrow one, the first one on the left, says that it has three tiers and six shelves, and if you go to the Amazon page and scroll over the image, you can see that's true, with the bottom shelf just barely above the ground.
The Homewell one, the middle one here, says that it has three tiers and comes with four shelves. Looking at the parts diagram on that page, it appears that they don't provide a shelf just above the ground, but if that's true you can use the ground itself. On the other hand, when I look intently at the bottom of the greenhouse, I think I see a grid down there.
The third one, the New Clevr, seems to be the same as the Homewell, but it has the best selection of images, with a couple of photographs, and indeed it does appear to be a four-shelf greenhouse, two shelves on each side.
As for what each of these three greenhouses is made of,
The OGrow frame is made of lightweight steel… the blurb says heavy duty but I think that's a relative term. Some of the reviewers call it lightweight. The clear cover is described as being durable, but what form of plastic it is I didn't see.
The Honeywell says its metal frame is powder-coated and that the cover is polyethylene.
The New Clevr says the same as the Honeywell but also that its polyethylene cover is green. If it is, it is a very pale green. You can see what you think from the photos at its Amazon page.
Why Do I Prefer the OGrow greenhouse, of these three?
First of all, it sells way more than the other two. I am basing that on the numbers of reviews, which may not have an exact relationship to the number of sales but is probably a good ballpark estimate. Just as the bestselling greenhouse, the Gardman described above, had over five times as many reviews as this one, so too this one had about five times as many reviews as the other two (Honeywell and New Clevr) combined.
Second, this one appears to have the best shelf arrangement.
By the way, I read a lot of the reviews and there are complaints. My impression was that people may expect too much from these little things. Quite a few of the people who are happy with their greenhouses said something like "it's good considering the price." With that in mind, my vote for a greenhouse this size goes to the OGrow Deluxe Walk-In 3 Tier 6 Shelf Portable Greenhouse.
[5] Very Small Ikea Greenhouse, White
 This is a greenhouse? It's a cute little thing but the teacup in the picture gives you the idea of its size.
Still, you might have a use for it. It's just over a foot tall and deep and almost a foot and a half wide.
The roof positions so it doesn't have to be closed all the time. The thing isn't particularly tightly made. If I had one, I would put something waterproof underneath it, to collect any drips.
Some Tips for Gardening with Greenhouses
How happy the plants in your mini-greenhouse will be depends on the conditions inside the unit. Consider this when you decide where to place it. How much sunshine will it get, and how much shade? Plants vary in their light requirements so you can grow some things no matter how much light they will get. Here's an article I found about the sunlight requirements for vegetables. It isn't specifically about greenhouse gardening but the ideas apply. And here's another article, listing ten veggies you can grow without full sun.
You might want to get a greenhouse thermometer to see what's going on inside it. The one I linked to will also give the relative humidity.
Will it get too hot if you are gone all day? If so, try adjusting the settings of the door for ventilation. Will it get too cold at night? You could try covering the greenhouse with an old quilt or sleeping bag. This is where a thermometer that keeps track of temperatures would be handy. Some people use grow lights in their mini-greenhouses, but if you want to do that, be careful about any possible fire danger.
Watering your plants is important. Not too much, not too little… if you pay attention to the plants and the soil, you can work out what you need to do. I like to use watering cans, as I find it's easier to get the right amount of water than if I have a hose running. But it depends on how much watering there is to do.
Take some chances and experiment!
I'm an organic vegetable gardening fiend, for the outstanding taste, the reduced cost, the greater health benefits, and the easy availability of the produce at dinnertime. My husband and I typically use larger greenhouses–the picture at the top of the page is of a greenhouse we had in Colorado, and that's snow outside the windows. Ah, the joys of fresh greens! But what to grow is a topic for another day. Whether you have gardened before or not, do consider these mini-greenhouses. My favorite is the Gardman, but the others have their uses too!