Glad We Had Emergency First Aid Supplies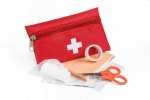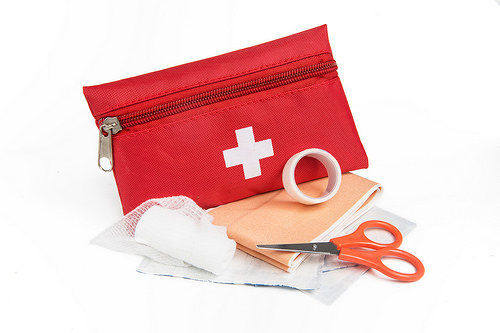 Doing first aid is never fun, but the other day we were glad that we had the needed supplies in our rather disorganized bathroom cabinets. A visiting friend had scraped the back of her hand and it was a mess. It took a while to find everything, but we did come up with a newish tube of Neosporin ointment, a large sterile bandage pad, the not-so-sticky kind of tape to attach it to her hand, the homeopathic remedy Arnica and canine Rescue Remedy when I couldn't find the human kind. After the repair session on her hand, we gave her a nice soothing cup of herbal tea.  (Her hand has been healing nicely, I'm glad to report. Of course she would have sought medical help if infection had developed, but it didn't.)
So now I'm in the process of organizing all my medical and first aid supplies, and the reason I'm writing this is in the hope that you will also do that! Whether you get yourself a kit or two or make a list of what supplies you have and see what you want to add to them, this is a project that is well worth your time. It's worth updating every now and then too, as some things have expiration dates. I noticed that our burn pads are years out of date, for example.
Three Best-Selling First Aid Kits for Sale
Here are three general first aid kits, for sale at Amazon. Clicking on the images will take you to the page for each item. The first one is the simplest, and the next two are quite comprehensive. The first and second kits say that they meet OSHA standards, and the third one is actually a backpack meant to sustain two people for three days and includes food, water, and emergency blankets as well as a small first aid kit. I almost didn't include it here but it's listed as one of the best-selling first aid kits and seems versatile.
Making Lists of First Aid Supplies
You may prefer to make your own collection of supplies. Or perhaps, like me, you have quite a few things but should probably get more and do some replacing.  I went looking around on the internet and the best list of first aid supplies I found is written by a Registered Nurse as part of a  several-week series on emergency preparedness.
Here is my rather basic list … I have most of these things, plus a couple of first aid books, on hand. Only a few of them would get out of date and need replacing.
Assorted small bandages
Large sterile bandages
Tape to attach large bandages
Ace bandages
Antibiotic ointment
Scissors
Tweezers
Thermometers (one for humans, one for pets)
Hydrogen peroxide
Ibuprofen (I like the kind without dyes)
Pepto-Bismol or Imodium in case of diarrhea
Baking soda
Boiron Oscillococcinum for Flu-like Symptoms — I use this at the first sign of a cold or flu
Also, if you think about the needs of each person in the household, you may come up with specific things to add.
Specialized Kits
There are times when you want a specialized kit. I could use one for each of our vehicles.
First Aid Kit For a Car
The AAA 85 Piece Commuter First Aid Kit is a good basic kit in a hard shell case.
For Kids
I expect that parents of active children may be better supplied than the rest of us. Still, here is a good-looking kit: Medibag 117 Piece Kid Friendly First Aid Kit for the Whole Family
What Do You Have Now and What Do You Need?
I hope this article helps you get any first aid supplies you need. Before you mght need them!