Why I Am Going to Live Less Sustainably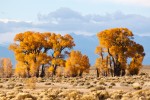 It's true, I am going to live less sustainably, starting this spring. I'm really excited about it.
So is my husband. He is admittedly a bit less excited about it but we are in agreement about our plans.
We have been living in Mexico, by Lake Chapala, in an ideal climate, for four years now. We fill our VW Jetta up with gas about every three months because we drive so little. We walk down to the town plaza every Tuesday to load up on veggies and fruits — except for what we grow in our own year-round organic garden. In the brief winter, we use a couple of radiant heaters by our desks now and then. In the summer, we cool off with the breezes from the lake, sometimes augmented by a window fan.
We are leaving this tropical paradise to go back to Crestone, the remote small town in Colorado where we lived before. We will be driving a lot more, heating a house for the very long winter, and all the rest of it.
I'm thrilled because that's where my heart is. Much as I have loved Mexico, my tribe is back there. So many dear friends I have missed so much.
Decisions must include the heart.