Want One of The Best Fireproof Home Safes?
What I'm looking for is a safe that will offer the best fire protection for a bunch of documents and a few things without costing a huge amount.  Here you will find the results of my quest for the best fireproof home safes, and I'm a librarian by background so I tend to go overboard on research! There are further ways to protect your documents that I hadn't heard of before, such as fire chests and fire resistant document bags that I'll explain further down.
If you are in a hurry, head over to Amazon.com to look at the SentrySafe SFW123DSB or the Honeywell 1108.
Several of the Best Fireproof Home Safes
Some of these are listed in the Gun Safes category at Amazon, but I didn't get into gun safe topics.
The SentrySafe SFW123 in 3 Models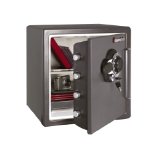 The SentrySafe SFW123DSB 1.23 Cubic Feet Combination Fire-Safe is one of the best fireproof home safes that I found in the moderate price range I was considering. Weighing in at 91 pounds, it's not going anywhere in a hurry. I was impressed with the times it lists for protecting the items in it:
UL Classified for fire endurance ( 1 hour at 1700 degrees F/927 C )
ETL verified for 1 hour fire protection of CD's, DVD's, memory sticks and USB drive
A variation of this safe is also available as the SentrySafe SFW123FUL 1.2-Cubic Feet Electronic Fire Resistant Big Bolt Safe for more money, with the only difference being that this second one has an electronic lock. They are both on the same product page at Amazon.
It comes with one shelf that is removable or adjustable. The combination version comes with both a key and a combination lock, and you can use one or the other or both. The digital / electronic one has a key pad and a nice feature is that you can choose your own combination for it. By the way, this safe is manufactured in the USA.
A closely related product is the SFW123GDC safe, also by SentrySafe. So far as I can tell, it is midway in price between the other two, has the combo lock, has a light, and doesn't have a multi-position shelf. Here is a list of products at the SentrySafe site if you want to figure it out for yourself.
The Honeywell 1108
The Honeywell 1108 1 Hour Fire/Water Large File Safe Chest – Legal/letter/A4 Size Documents is another good choice, with many favorable reviews. I like that it is set up to use hanging file folders to help keep things organized. As a librarian, that really appeals to me. It looks like something you can pick up but at 80 pounds, it is heavy. Not easy but possible for some strong people to grab and go. You have your choice of three different capacities (and different prices, naturally) on the same page.
The Lockstate LS-30J
The LockState LS-30J Dial Fireproof Safe weighs a bit less at about 60 pounds.
Just looking at it at Amazon, I might not have picked it out to mention, but another review site spoke quite favorably of its simplicity and construction. It uses both a combination and a key, and one cleaver feature is that it comes with another key that will let you in if you forget your combination. As usual, with just about anything, reviews disagree with each other, but several of them said it was really, really good. When I find very favorable reviews along with others that are not, my tendency is to pay more attention to the favorable. (Oh, unless the reviewer got a freebie or price cut in exchange for their "unbiased" review but that is not the case here.)
The Hollon HS-500D
The Hollon HS-500D 2 Hour Fireproof Home Safe is the largest, heaviest, and most expensive safe on this list.
It doesn't have a gazillion reviews at Amazon; maybe it's newer. But I'm listing it because I came across enthusiastic reviews elsewhere on the internet. It is HEAVY at over 100 pounds! Better than most home safes in that it has a two-hour fire rating.
 Fire Chests: Less Expensive. Smaller, and Still Useful
These are inexpensive fire chests that anyone can afford. Portable chests like these have the advantage that you might be able to grab them in case of fire or flood and the disadvantage that burglars could take them if they saw them. So if you use this sort of thing, tuck it away in some obscure spot where you can grab it in a hurry… AND remember where you put it. You might call these things small safes, but the term in use seems to be fire chests.
Once again I am impressed with SentrySafe products. This fire chest only weighs about 15 pounds and it is inexpensive: SentrySafe 1210 Fire-Safe Security Chest. It has about half an hour rating for paper and electronics.
Another one, from First Alert: First Alert 2011F Fire Chest, 0.17 Cubic Foot, Gray, also about half an hour rated.
Curious to find out more about these things? Here's a list on Amazon of fire chests.
I am thinking of getting one of these. For any kind of emergency that would require leaving our house, we would probably take off in our well-stocked motorhome, and it would be easy to grab  this along with the pets!
What Protection Do You Want from a Home Safe?
While fire protection is the main reason people get safes, protection from burglary and from floods are also issues.  If you are thinking about someone breaking in and taking things, it's worth knowing that burglars often head for the master bedroom first. Typically they load up with an armload they can carry from wherever they find it, and then they leave. As for fire, it will go through a house fast enough usually that a relatively short time rating may be enough. That will depend on how valuable the items in the safe are to you.
Looking at the weights of safes in my research, I figured that these safes are not likely to go out your door. At  80 to 100 pounds, they are just too doggone heavy for a quick burglar. Some of them can be bolted to the home as well.
What Are You Going to Keep in Your Home Safe?
Make a list of what you want to have in it, and that will help you decide what size you will need. This article at Consumer Reports suggests actually getting everything together and seeing how big your pile is. I'd add that you will probably think of more stuff later so get one at least a little bigger than you now  think you need.
Some of the Things to Keep in a Fireproof Home Safe
Passports
List of inventory of everything in your house, could be with photos or video
Tax and other financial records
Medical records
Copies of the cards you carry in your wallet
Computer backups
Cash, to have some handy
Insurance information
Wills and related documents
Some things can be kept elsewhere. Lists of your passwords, for example, could be on a USB drive. (That's a link to my article about password-protecting them.) Scanned-in photos could be in the cloud, at Dropbox or similar places. So could old tax returns and other financial documents if you scanned them in. Other computer backups are good to have both on a backup external hard drive and online. If you have valuable collectibles you don't really care about having close by, a bank safe deposit box is another choice.
Sizes, Weights, and Effectiveness of Safes
Home safes are rated as to how long they ideally would protect the contents. I say ideally because different contents are ruined at different temperatures… paper will last longer than DVDs, for example, and the temperatures in a house fire will also vary. The effectiveness of your safe will be related to where you keep it, as well. If you have a basement that is unlikely to flood, that might be a good place for it. We live on the side of a hill and so it would be good for us.
The really large safes that may cost several thousand dollars are beyond the scope of this article, as are gun safes.
I couldn't resist using this elegant old safe for my Pinterest image, but it isn't really a choice! (If you are on Pinterest, I'd love it if you pinned this…)
What I Learned from Reading Articles and Home Safe Reviews
Fireproof is not an accurate word for consumer home safes. You really should say fire resistant for them. They are rated between 30 minutes and over 2 hours, (But I didn't change the title of my article because fireproof is how people think of them.)
Consider the dollar value of what you are going to keep in your safe and if it is over several thousand dollars, get a much better safe or use a safe deposit box.
If you do have a fire, wait several hours for the safe to cool off before opening it.
Digital home safes have the advantage of no key to lose.
Moisture can build up inside a safe, but you can open the safe every month and leave it open for a while. Also, see the link for a desiccant I have further down.
Anything electronic will be ruined at lower temperatures than paper.
I got several tips here.  Many of the reviews I read around the web for home safes included a lot of safes that had no fire resistance.
Why Procrastination Isn't a Great Idea
We never know when bad luck will strike.  In my opinion, it's better to get something to protect your valuables now rather than to wait for that mythical time when you expect to have more money. If/when that time arrives, you will think of a lot of ways to spend it that are more fun than this!
By the way, once you get a safe, put the key (or the combination if you get a keyless one) in a safe place and be sure at least two people  know where that is.
Accessories: Document Bags and Desiccants
Document bags or document envelopes are rated to help your documents and small items withstand the high temperatures of fires. They can be used inside a home safe or on their own. Here are two:
I did have a link to another one called the U.S. Patrol JB5076 Fire Resistant Document Bag, but unfortunately some people had bad experiences with it, getting fiberglass in their skin, so I have removed the link. Good reminder to study reviews.
Something else you might want is the desiccant silica gel. It's available in various quantities from this page: Dry-Packs Silica Gel (10 Pack), 3g
By the Way, Need Any Fire Extinguishers?
Better safe than sorry, as the saying goes. Here's a link to the best-selling fire extinguishers at Amazon.com, updated every hour.
So, finally wrapping up, I hope you find one of the best home fireproof safes for your needs, from this article! And I hope you never have a fire!