What Are the Best Flashlight Gift Ideas?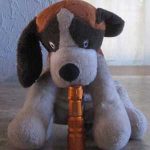 Flashlights make great gifts… for children and adults, for birthdays and holidays.  So I'll provide you with a selection of flashlight gift ideas… I'm following Amazon's categorization of household flashlights as handheld, keychain, lantern, and headlamps, and I'll recommend some of each.  If you are in a hurry, click here to see my favorite flashlight gift for anyone, on Amazon.
When I wrote a rather long article about the best cheap LED flashlights, I realized that we didn't ourselves really have enough flashlights, and I got some more. I would say that for most people, a Christmas gift of a flashlight would be appreciated. For example, it's great for all tool lovers, men and women alike:
I just grabbed a few of our tools to take the photo, and then  it occurred to me that you could easily devise unique flashlight gift sets for anyone on your holiday list. Someone could get tools, kids could get toys, and the common thread could be a flashlight in every gift box! That would be amusing. I really like giving practical gifts in an enjoyable way. You could easily throw in some batteries as well, unless you were giving a rechargeable flashlight.
My Favorite Flashlight Gift Idea
I got the J5 Tactical J5 V1 Pro Hunter Orange Tactical Flashlight – The Original 300 lm Ultra Bright, LED Mini 3 Mode Flashlight, Hunter Orange half a year ago and it is my absolute favorite. It comes in several colors, but when I was just checking on it as I wrote this article, one color was out of stock and expected to be out of stock for a month or two, so watch out for things like that.
I like how bright the light is, how it fits in my hand, how the color helps me locate it quickly and know it's this flashlight and not some other one.
The tactical aspect mentioned in its name includes clobbering people with the somewhat jagged end. I don't expect to try that, but I could imagine shining its light into the eyes of a person as self-defense. Other ways I've used this: finding a sewing needle that fell into the carpet and a mini-exam of my husband's mouth for dental purposes. Plus of course all the everyday ways you use a flashlight!
So this inexpensive LED flashlight which runs on one AA battery (and comes in several colors) is my top pick for a flashlight gift for anyone. And here it is in a cheerful bright pink on another page at Amazon.
HandHeld Flashlight Gift Ideas
The one I just raved about is my favorite of course, but here are a few more ideas. The first one is waterproof and the second one is water resistant.
 Dorcy Waterproof LED Flashlight 41-2510, 55-Lumens, Yellow and other colors
 BlueFire 1200 Lumen Top XML-L2 LED Flashlight Portable Adjustable Focus Zoom Handheld Water Resistant Flashlight Torch
 Binwo Super Bright 2000 Lumens Rechargeable Handheld Mini CREE LED Flashlight, Zoom Lens with Adjustable Focus, 5 Modes
 LE Adjustable Focus Mini CREE LED Flashlight Torch, Super Bright, Batteries Included, Zoomable LED Flashlights
&
Keychain Flashlight Gift Ideas
Here are some popular keychain flashlights. These are so tiny that they can be easily carried in a purse or pack or put here and there around the house. I bought a set one time and didn't notice that they were not Amazon Prime and that they were actually coming from China. They came reasonably soon, but it's good to know if you order some and that's the case! As of this writing, all of these shown below ship right from Amazon.
 Pack of 4, BYB Super Bright 9 LED Mini Aluminum Flashlight with Lanyard, Assorted Colors, Batteries Not Included
 Ssking Super Mini LED Flashlight with Carabiner, Five kinds of colors, Powered Batteries Included. Pack of 5 as gifts
 Streamlight 73001 Nano Light Miniature Keychain LED Flashlight, Black. Available in colors.
&
Lantern Flashlight Gift Ideas
Lantern flashlights are versatile gifts and they are something that people are less likely to have. My husband and I have used them so we could both read books while sitting at a camp table…  and also for power outages. I don't own any of these particular ones, but I am intrigued by the second one here… it's solar powered.
 Etekcity 2 Pack Portable Outdoor LED Camping Lantern with 6 AA Batteries (Black, Collapsible)
 MPOWERD Luci Original – Inflatable Solar Light
 Portable LED Camping Lantern, Lemontec water resistant Ultra Bright 30 LED Lantern (3 AA Batteries), 3 Pack
 Camping Lantern 2 Pack Mini LED camping lights ,Collapsible Portable Waterproof Tent Light Emergency light (Green&Orange) 
&
Headlamp Flashlight Gift Ideas
Headlamp flashlights can be useful for having two hands free for repairs and all sorts of projects. Some people use them extensively, for bicycling, working on cars, evening dog walks, and much more. I was surprised to see how many enthusiastic reviews there were for these things! Here are a few to consider.
 LE Headlamp LED for Camping, Running, Hiking, Reading, 4 Modes LED Headlamps, Battery Powered Helmet Light, Hands-free Camping Headlight, 3 AAA Batteries Included
 GRDE Zoomable 3 Modes Super Bright LED Headlamp with Rechargeable Batteries, Car Charger, Wall Charger and USB Cable
 Boruit® Headlamp Headlight 5000 LM with 3*Cree XML T6 LED Super Bright Flashlight for Hunting, Camping, Night Fishing, Running, Reading, Kids, Rechargeable & Waterproof Work Light
&
What About an LED Flashlight for Kids?
Children's flashlights can be selected from all the kinds listed above, and for older kids, that's what I would suggest. Wish I'd had a headlamp flashlight when I was a kid, mainly for reading under the covers!
Here are a few other choices, the first two particularly for very young kids. The stuffed animal is part of a series; if you want a different animal, scroll down the page at Amazon.
 VTech Spin and Learn Color Flashlight
 Melissa & Doug Sunny Patch Giddy Buggy Flashlight
 The Huggable Loveable Child's Flash Light Puppy
 Kootek 5 Pack Zoomable 150 Lumens Mini LED Waterproof Flashlights for Kids 
&
I Hope You Like Some of the Flashlights!
Not only are they fun for gifts, but flashlights are a great tool if the electricity goes out. Giving them as gifts is a low-key way to be sure that people you care about are just that much more versatile, just in case. Going back to my original question of "What are the best flashlight gift ideas?" there are surely a lot of answers to that question! If you're overloaded by the choices, for all but the very youngest, that flashlight I call my favorite is a good choice.