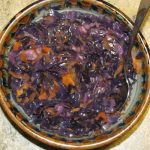 Since I've been eating essentially in a plant-based way for over four months now, it's getting to be very natural. I have taken a few nibbles of meat when my husband ordered something at a restaurant or when I went to a potluck, but I've been very pleased that they haven't enticed me back to my old ways at all. Okay, the one exception to that was a small lamb chop, but I could be happy with one of those quite rarely. Here's the article I wrote explaining my shift to pretty much vegan.
Here are photos from a vegan feast I made one evening when a couple of friends came over for dinner. I don't usually cook from recipes, and I didn't that time either.
First, I made Roasted Root Vegetables. Since our regular oven is full of baking pots and pans, we usually bake in our large toaster oven. That's really an important appliance here, and the link takes you to the one we got at Amazon a couple of years ago. This was easy… I cut up carrots, a red onion, and a rutabag. Then I zapped them with a little olive oil using my new olive oil sprayer which I find very handy for not using too much oil. I baked the veggies in that oven for about 45 minutes. They were a hit.
My next project was Wild Rice with Black Beans and Peppers. The wild rice I favor is made by Lundberg and is a blend of wild rice and other kinds of rice. Our food coop carries it in bulk but you can also get it in four-pound bags. I have a rice cooker so I cook it that way but it works fine on the stovetop too. I used a can of nice organic black beans, so the cooking was simple:  I stir-fried an orange pepper, tossed in the beans to heat up, and then added the cooked rice.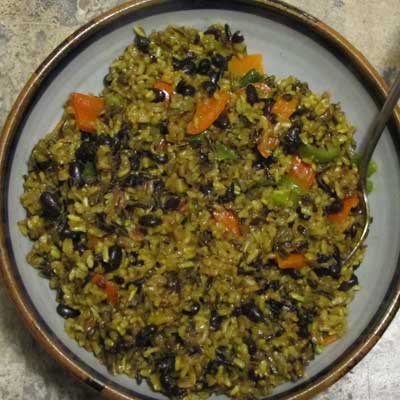 And the last main course dish was Stir-fried Shredded Cabbage and Carrots. Also made on the stovetop, I shredded a small head of purple cabbage and a bunch of carrots in my food processor, and then cooked them until soft.
We were stuffed by the time dessert came around but our guests still raved about the very simple fruit plate. Those are pomegranate seeds on the left, then papaya, pear and apple pieces. On the right are frozen black cherries, unfrozen by the time we ate them.
Yum! Here is the book that was a major influence in my change to a healthier way of eating: How Not to Die: Discover the Foods Scientifically Proven to Prevent and Reverse Disease.
If you are on Pinterest, here's an image…