An Inspiring Intentional Community in Mexico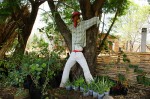 We visited an intentional community in Mexico,when we lived there. Some Mexican friends of ours from Guadalajara had been looking for the right place to move to, and this place was it. It has over twenty families, living in regular houses. Each family seems to own its own place; our friends were renting a rather simple and very nice house, and had just purchased land within the community to build their own.
This couple invited us to visit one Sunday, and I'm so glad we went.
"To live ecologically is important," said our friend Sandro over lunch. (We spoke mostly in Spanish, with a bit of English here and there.)  "But it's not everything. There is spirituality. " I was in agreement. "And you must have tradition," he finished.
I wondered how many Americans would have added tradition, but it's at the very heart of the success of this Mexican community, now over 25 years old.  Teopantli Kalpulli  is out several miles on a narrow, dusty dirt road from what appeared to be an ordinary semi-rural Mexican town, which our friends said was about an hour from the edge of Guadalajara.The tradition is particularly that of the  temazcall, or sweat lodge, and has much in common with the traditions of Native Americans in the U.S.  The day that we were there, we walked over to a small cliff and our trail took us past the temazcall grounds, where maybe twenty people were entering a large tent-like structure to begin the long process. We stopped talking and walked by in respectful quiet.
Back at the lunch table, I thought of the various intentional communities I had lived in and visited, mainly back in the 60s and 70s. "How do you handle differences of opinion?" I asked, remembering some world-class arguments.
"We have meetings every Thursday evening," he said. "Everyone comes, and we work things out. It can get intense."
"Even the children go?"
"Sometimes." He nodded at his seven-year-old daughter and said that she and a friend had just gone to one, when they wanted to ask permission of the community for a project they had in mind.
"Sometimes there must be conflict that isn't solvable in a meeting like that," I said. "Like personality issues." My friend explained that tradition was turned to in that case, with ceremonies.
I love how rooted in the old ways this place is. There must be places of this sort all over the world, rooted in the many different cultures that exist. Organic farming is part of the way of life here. They have many plans and dreams for the future.
We ate in the leisurely Mexican manner.  Several children ate with us. "What a great place for kids," I said to Sandro's wife Bere.  She nodded. "My children eat at other houses too."
Soon the children ran next door to a large trampoline, where they joined other kids and teenagers. I could tell they were all having a rousing good time.  A little later, I glanced over that way again and noticed they were all sitting companionably around the edges of the trampoline, talking peacefully.
Inspiring. Here is the page in English  for Teopantli Kalpulli at WWOOF.