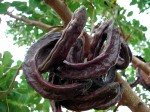 Carob is an amazingly versatile food, good for the digestive tract, naturally quite sweet. I love the combination of textures that this recipe makes. It's excellent served with a dollop of home-made yogurt on top. If you are allergic to wheat or gluten, substitute any other kind of flour that you use.
Carob keeps a long time, though it will get clumps in it. I find that rubbing the little hard bits between my fingers is the best way to get rid of them while the carob is dry. If you happen to be using a recipe that combines carob with hot water, you can dissolve the lumps with a spoon.
Sift together into a mixing bowl:
2 cups whole wheat pastry flour
1 T baking powder
1 t salt, or less
6 T carob powder
Add
1 cup brown sugar
¼ cup oil or melted butter
1 cup milk (or water)
2 t vanilla
Mix well. If you wish, stir in
1 cup nuts or sunflower seeds
Spread the batter evenly in a large baking pan.
In a bowl, combine
½ cup honey
¼ cup carob powder
3 cups very hot water
Stir well and pour over the batter; during cooking, it will sink to the bottom and form a pudding. Bake at 350 for about 40 minutes, or until cake feels done to the touch.