Tomato Gardening with Abundant Results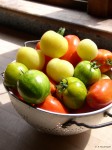 Many years ago, my mother had a garden in Southampton, NY, near the ocean on Long Island. She collected seaweed on the beach and used it for mulch. What I remember most was the abundance of tomatoes that she grew, along with beans, lettuce, cucumbers, squash, and numerous other things.

This afternoon, I came across her garden notebook for 1978 and read through it. Here are some of the excerpts regarding tomatoes. She was diligent about logging how many she picked, but she must have been less diligent about logging how many she froze or gave away, as you can tell from the numbers below. She and my stepdad couldn't have eaten all the rest… could they?

I hope this inspires you to grow tomatoes sometime!
May 8 and 9. Planted Big Girl tomatoes (raised from seed) in garden.
May 31. Clarence gave me 6 fine tomato plants. Put 3 near western edge of garden and used 3 to replace some poor-looking home-grown tomato plants.
June 14. Started making new wire cages for tomatoes — always forget how hard and time-consuming a job it is, even with my good new wire cutters.
June 15. Finished making wire cages and put them up. Tomatoes seem very small for this late in the spring. Most of the ones I bought [and didn't describe in her journal — Zana] bloomed before the plant was more than a foot high — a bad sign? Pinched out the blossoms but I don't know.
June 27. At last, the tomatoes look like tomatoes should!
July 7. The tomatoes look really great. Quite a few green ones.
July 31. One tomato is showing yellowish color; many have the white-green color.
August 3. Picked a few beans and the FIRST tomato. It's yellowish, rather than ripe, but it was pulling the branch down so much that I thought I might as well pick it. — All the tomatoes (most) have a whitish cast; they seem small to be getting ready to turn.
Aug 13. Picked 3 small ripe tomatoes.
Aug 14. Picked 3 tomatoes.
Aug 15. Picked 5 tomatoes.
Aug 16. 5 tomatoes.
Aug 17. Picked about 5 tomatoes.
Aug 18. Picked about a dozen tomatoes.
Aug 19. Picked 10 tomatoes.  Discovered yesterday that some of the tomatoes are no good inside — some kind of dark spreading rot. Don't know what it is.
Aug 20. Picked 49 tomatoes. Gave some to neighbors, froze some for soups in the winter.
Aug 21. Picked about30 tomatoes.
Aug 22. Picked 11 tomatoes.
Aug 23. Picked 39 tomatoes. Froze about 8 pints of tomatoes.
Aug 24. Picked 42 tomatoes.
Aug 25. Picked 20 or more tomatoes.
Aug 26. Picked about 20 tomatoes.
Aug 27. Picked 10 tomatoes.
Aug 30. Picked 108 tomatoes, including some green and some small.
Aug 31. Picked 8 large tomatoes.
Sept 1. Picked 22 tomatoes. Froze 11 pints.
Sept 2. Picked about 50 tomatoes.
Sept 3. Picked 25 tomatoes. Froze 5 quarts.
Sept 4. Picked 14 tomatoes, sent some to Mary. Several tomato plants have gotten topheavy and fallen over, pulling the wire cages with them. Must find a better way to grow them.
Sept 5. Did not pick anything. (Tired of it all and working on my book of short stories.)
Sept 6. Picked 60 tomatoes.
Sept 7. Froze 5 quarts tomatoes.
Sept 8. Picked about 12 tomatoes. Gave them and some from inside to Sylvia.
Sept 9. Picked about 35 tomatoes.
Sept 10. Sent 10 tomatoes to George. Harvested 15 or 16 tomatoes. Pulled some falling-down tomato cages back up into position and propped them up with long-handled tools (spading fork, etc.).  Froze 2 qts. tomatoes. Picked 3 more tomatoes.
Sept 12. Picked a dozen tomatoes (and picked and threw away about 10 others — quality is beginning to deteriorate).
Sept 14. Picked 12 tomatoes.
Sept 15. Picked about a dozen tomatoes.
Sept 17. Picked 8 tomatoes and gave them to neighbors who walked by.
Sept 19. Picked 13 tomatoes.
Sept 20. Picked 17 tomatoes.
Sept 21. Picked tomatoes, forgot to note the number.
Sept 22. Picked about a dozen tomatoes.
Sept 24. Picked 2 tomatoes, one green, one ripe but not good.
Sept 25. Took tomatoes to neighbors.
Sept 26. Picked 7 large tomatoes.
Sept 27. Picked 4 large tomatoes.
Sept 28. Picked 4 large tomatoes.
Sept 30. Picked 5 tomatoes.
Oct 1. Picked 5 or 6 tomatoes — mostly quite green. They seem to ripen faster in the house than in the garden. Still some green ones on the vines.
Oct 2. Picked about a dozen green tomatoes and took a couple to Barbara.
Oct 3. Picked about 20 green tomatoes and threw alway nearly that many bad ones!
Oct 5. Picked about 7 tomatoes.
Oct 6. Picked abot a dozen green tomatoes. Cleaned up some of the tomato plants.
Oct 9. Picked 8 tomatoes, one red the rest green.
Oct 10. Picked about 40 green tomatoes. Some already in house have turned out to be wormy. Ugh!
Oct 12. Picked about a dozen green tomatoes, but threw away some I'd been saving in the house — suspicious of worms, probably unduly.
Oct 16. First light frost last night in the front yard. No sign of frost in the garden except one wilted tomato branch. Spent about 2 1/2 hours cleaning up squash and tomato plants. Have done 12 tomato plants — another 18 or 20 to go.
Oct 17. Worked about 2 1/2 hours cleaning up tomato plants. Did 8, have about 10 to go. Brought in about a dozen green tomatoes.
Oct 19. Must have been a real frost last night — the remaining tomato plants are reduced to nothing but stems and fruit. Maybe this is the easy way to clean them up? Just let them freeze?
Oct 21. Found one perfect, red-ripe tomato, not frozen, though most of the half dozen or so remaining vines froze the other night.
Oct 28. Finished taking down tomato vines.
~~~~~~