Alternative Beekeeping Using the Top Bar Hive and The Bee Guardian Methods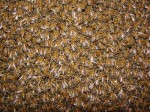 There's a how-to DVD out from from the Back Yard Hive folks. It's about an hour and a half, but they have kept the price to a low $19.95 to reach as many people as possible. I heard a couple of these people speak in my town a while back and I am impressed with their devotion to bees!
Here's the blog post I wrote back then.
And here are the contents of the new DVD:
Features of the Top Bar Hive
The Location of the Hive
Setting up Your Hive
Finding Bees for your Hive
How to Capture a Swarm
Introducing Bees into the Hive
About the Bee Colony
How the colony is Organized
Working with the Bees
Adventuring into the Hive
Single Comb Harvest
Processing Honey
Fall Preparations
Preparing your Hive for Winter
The Future
Impressive!  Find out more at Back Yard Hive.