Earthbag Building is Taking Off!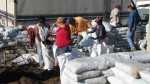 In January my husband Kelly flew to Puerto Vallarta, Mexico, for a couple weeks. Vacation basking in the sun? Not hardly. He was there to consult and train on an earthbag demo home going in. His accommodations were conveniently located — he stayed in the motorhome you see just behind the project. You can see a lot of photos of the Puerto Vallarta earthbag project, and read Kelly's comments at the link.
He was invited by Mike Parker, an American who lives there and has a site called Children of the Dump.
All over the planet, earthbag building is becoming much more known and used too. See the natural building blog to keep up or go to earthbagbuilding.com for the whole picture. My husband and others work on these sites a lot.
UPDATE: More recently, Kelly has come out with a book on earthbag architecture: