Chick Days: An Absolute Beginner's Gude to Raising Chickens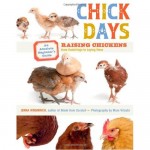 When I was in the feed store the other, there was a copy of Chick Days on their checkout counter. "That's a fun book," I said to the clerk and she smiled and agreed. I didn't buy it, as I had already bought two copies. I read the first one and then some dear friends with preschoolers came over for dinner. I looked at the book with the kids, and they loved it, so when I learned that they are getting chickens, I gave them that copy.
Chick Days is a very attractive book, as you can see from the cover. The text is a little more disorganized than I would have liked, as it is the story of three baby chicks adopted by a family of a father, mother, and seven-year-old. There are places in the book where they talk in the first person. But in other places, the author, Jenna Woginrich, tells first-person stories of her own experiences with chickens. So it isn't always totally clear. But it's nicely written.
The absolutely gorgeous layout of the book, with tons of photos, is a joy. It is a great beginner's guide. I'm virtually a beginner since it's been a long time since we had chickens. I had also read Harvey Ussery's excellent comprehensive book, The Small Scale Poultry Flock (link to my review of it here on this site) and I'm glad, as this book wouldn't have answered all my questions.  But as a delightful introduction, it's great fun!
I'm re-reading this now and picking up more details.