Good Ol' Mother Earth News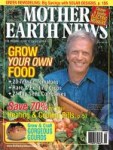 I've just been reading the current issue of the Mother Earth News, and while its downhome ultra-folksy style has been modified a bit over the years, it is still the same magazine I have loved for decades. Hadn't read one for a while, though.
I read this one because a friend of ours, Owen Geiger, has an article in it titled Low-cost Multipurpose Minibuilding Made with Earthbags. The article mentions that more could be found on their website, and here is the link to that article: http://www.motherearthnews.com/Do-It-Yourself/Earthbag-Building-Garden-Shed.aspx
But the whole  Mother Earth News website amazed and delighted me. It seems that all of the current issue is there, and in some cases, the articles are longer.
I highly recommend this site for browsing! Here are just a few of the things I read or skimmed:
A query with a lot of replies: What Disposable or Single-use Products Have You Given Up?

A list of the blogs on the site (which at present has a special offer of $10 for a year's subscription to the print edition, if you pay with a credit card and sign up for automatic renewal — that's a great deal but I have resisted so far, since I can read it online!)
An article on urban homesteading called The harvest begins
Take a look, but not when you are in a big hurry to do something else!