Love Songs at a State Park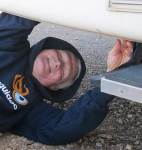 We are at Ute Lake State Park in eastern New Mexico, happy to have a 4G internet connection that allows us to stream music all day and work online as well. We saw a few other campers in a section of the park where there are electric hookups, but we have this section, with water hookups only, to ourselves. (Hmm, just like at Clayton Lake, getting to be a pattern.) Ute Lake has many inlets and meanderings and our campsite is on a little peninsula of its own, with water views everywhere.

This morning, we took the dogs for a long walk and talked about our writing projects. I'll soon get back to my novel The Dog Barked Murder, which is nearly finished, and Kelly has plans for a book on earthbag building, or maybe he will write a series of books. After lunch, I stretched out to rest a while, listening to Andrea Bocelli's album Amapola, but Kelly was soon back to work on the rear step, which had gotten a bit spongy. As I lazily listened to one love song after another, in Spanish, French, Italian, and English, I thought about how much I love this man I'm traveling with and how grateful I am for our many years together. What a good balance we are for each other.
Stray memories went through my mind, from our oceanside wedding as young hippies in California in the 70s, to when he fell off a roof in Mexico a few years ago. Oddly, instead of being freaked out while we waited for the ambulance, I was filled with love and very calm about whatever might happen. It turned out that he had broken a rib, and he was in pain for a few weeks, but it could have been so much worse. More memories went through my mind this afternoon, till I realized there would be no sleep and that I was energized with all that love.
Kelly let me take a couple of photos of him, one as he finished working under the motorhome…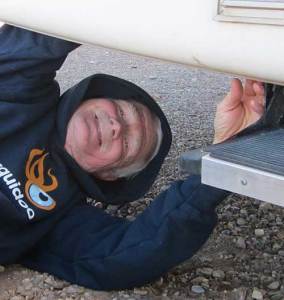 …and another after he emerged. Gee, he kinda looks like he's been getting older. When did that happen?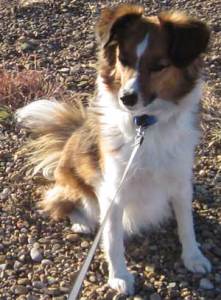 I didn't say a word about what had been going through my mind, but I did offer to do the afternoon dog walking so he could wrap up his projects while the weather was still glorious. First, I took Lola, the Rottweiler, luckily no longer smelling of fish as she did after our morning's walk. She immediately saw a skinny white cat she'd spotted the day before, perhaps a feral one or perhaps from the nearby town.
That cat filled her mind and she kept pulling back toward the area where it had been.
Meanwhile, at the motorhome, Nicky had been crying bloody murder. He hates being left, but I prefer not to take both of the dogs at once. So then Nicky got a similar walk. When he sat and stayed so nicely while I did some photography, he got a couple of treats I had along just in case.
When we got back, Kelly reported that Lola had been whining while we were gone. They're both prone to jealousy!
After I walked the dogs, I sat and watched the clouds, reflecting on how much beauty there is in the world. Hooray for love and hooray for water views.