A Chat with 19-Year Full-time RVers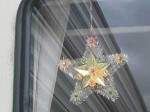 "We've been full-timers for 19 years," Jim said, as he stood outside our rig chatting with Kelly and me at Oliver Lee Memorial State Park in New Mexico. I immediately asked if I could interview them for this blog, and he said sure, so he and I walked over to their fifth wheel and I met his wife Donna. They got started a while after they retired… they both were able to retire at 59. They had a little trailer, and they rented out their home in Oregon and took off, thinking they would go for a couple of months.
They ended up being gone for 11 months, going from the Northwest to Florida and back through the Southwest.
Because of that trip, they were hooked. They traveled a lot in their first full-timing years, but now they typically travel under 200 miles a day, often no more than 100. They frequently stay the allowed two weeks in places. They've volunteered at campgrounds in Arizona and New Mexico, doing everything from trail maintenance to greeting visitors at the campground office. They both love the outdoors; they grew up camping and did hiking and backpacking as they raised their family. They prefer state and national parks in rural areas, and Donna mentioned that there are some nice county parks outside of Tucson and Phoenix. They have become birders since taking to the road, and they do a little geocaching.
I'd heard a little about geocaching, and they explained more. It's kind of like a worldwide treasure hunt. You can find out more at a website called geocaching.com, and using GPS you find the caches and indicate that you have found them. "It's very educational for children," Donna commented. She added that many people really throw themselves into it.
I asked what their favorite parts of the RVing lifestyle were. "It's relaxing," Donna said. "For example, there are fewer outside demands on your time." Jim added that he likes the freedom to move to a new place. They both have lots of things they like to do, from walking to reading to staying in touch with people.
They spend a lot of winter time in the southwest, for the same reasons that we are here this year: the weather. I asked what they do in the summer, and they said they go north, visiting their kids in Nevada, Oregon, and Washington. They still own the same house in Oregon they've had for 40 years, and they do any repairs or fixing up that it needs. It's rented out, and their tenants provide mail service, forwarding mail to them as needed. "We use General Delivery in a town, and in 19 years we've never had a problem. We don't use General Delivery in the cities." Like Kelly and I, they favor the rural life.
They have a pickup and they tow a 30 foot long fifth wheel with it. They got the fifth wheel just barely used–three years old then–in the 90s, and Jim said it's easy to keep it up. He does all the maintenance except for really heavy stuff. Like us, they have solar panels and no generator.
I'd been wondering about the pros and cons of having a motorhome and towing a small car (often called a "toad" as a nickname for "towed") compared to having a setup like they had. "It's really a matter of individual choice," Donna said. "Everyone has their own opinions."
Jim said that he prefers this setup for several reasons. They just have one motor to take care of, and if you have two, you know that sooner or later each one will need repairs. He added that he believed that insurance was cheaper this way, at least with the company they have. Also, his career had been in the Forest Service and he was very comfortable driving pickups and hauling trailers.
I find it inspiring to talk with full-timers like this couple. They are really living a life with many joys!