Almost a White Christmas at Poncho Villa State Park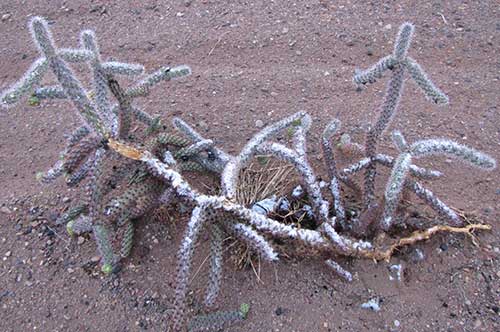 We're in southern New Mexico now, at Poncho Villa State Park, right on the edge of the small town of Columbus, NM and about 3 miles from the border with Mexico. Yesterday was Christmas and it was very windy but fairly warm. We walked the dogs with new friends, had dinner with old friends, and had a generally nice day. Not the white Christmas that our town in Colorado was having, but that was okay by us. I enjoyed the holiday music we played from the internet, songs like "Let It Snow, Let It Snow, Let It Snow" and "Frosty the Snowman" continued the snowy theme.
Last night, the motorhome shook and shook as the wind increased. Somewhere in the middle of the night, I woke to hear the pitter-pat of raindrops not that far above my head. Very glad that Kelly had done a thorough job on the rig's roof, I snuggled back down into sleep.
It snowed during the night! Surprise. It's the day after Christmas, and it wasn't much snow, but here it is. Not a Christmas tree I would want to decorate!