An Ever-Changing Community at NM State Parks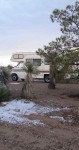 When we began this trip, I wondered if I would miss the social life I was used to in our small town. Not so! Sure, I sometimes miss specific people, but we're meeting a lot of fascinating folks on the road. I've already blogged about some of them.
We've stayed at nine state parks in New Mexico in the past several weeks, and we keep seeing people we met at other campgrounds. From this, a very nice sense of community happens naturally, among full-timers, snowbirds, and folks who are out on shorter trips. We met a Canadian couple at Santa Rosa State Park where we just chatted briefly and learned that they were long-time fulltimers. Then when we met at Sumner Lake, we walked our dogs with them, ditto at Bottomless Lakes. Didn't see them for a while, and then one day at dusk, here at Poncho Villa State Park, our dogs went wild with enthusiasm as a woman approached us… sure enough, it was our friend! By then, we had swapped a lot of tales of our lives. Connections often get deep very fast.
This happens all the time. I'm keeping an eye out for  some people we met at Oliver Lee State Park. We've been camping for over a week next door to some friends we knew in Mexico but hadn't seen in about five years. We didn't run into them accidentally… that one was arranged by email. It's great being neighbors. We arrange some meals together, and we know when to give each other space (in the mornings mainly).
We went across the border to Mexico (three miles away) with them one day, and the next time they went, we were busy at our computers but they picked up a few groceries for us there. You can't bring everything back in to the U.S. No chicken or pork or raw eggs or avacadoes, not many fruits. But we did bring in some delicious steaks and hamburger, veggies (including celery grown in California), and dairy products. Kelly got several things at a hardware store, and I went to the dentist our friends regularly use. We left our rig, with our just-walked dogs in it, here in the campground and went to a parking lot by the border with them in their pickup, then walked across.
We've been here at Poncho Villa, and on both Christmas Eve and New Year's Eve, a woman who used to be a campground host at this and several other state parks arranged late-afternoon get-togethers, indoors in a building on the grounds here. On Christmas Eve, we went around the circle and introduced ourselves. We've chatted with some of those people since then.
On New Year's Eve, it was a similar event but we arranged live music in advance: my husband Kelly played his sax while a long-time friend of ours, who lives in the town of Columbus that we're on the edge of here, sang and played an instrument called an Omnichord. I swear Kelly can improvise with anyone, and he and our friend have played together before. So they started the event, then we went around a circle again, with some of the prior week's people still around along with a bunch of new faces. It ended with more music and people chatting with each other, discussing possible travel together to the big RV gathering at Quartzite, Arizona, or swapping tales of going into Baja.
And so it goes. I've been fascinated by how many women are going it alone; one of them was a trucker for many years. Others just upped and tried it. They are mostly not young. People help each other out.
We are a diverse mix: when one guy introduced himself as retired military, a couple I was sitting next to exclaimed, "Thank you for your service!" They explained that there is the same sense of connection among retired military that they find among RVers; she was retired Navy and he retired Army. That wasn't the moment to mention that I was an old anti-war activist from the Vietnam era. But the cool thing is, we had to have amazing diversity at those get-togethers and in the campgrounds, and in the end, none of the differences keep people from forming bonds. We are all travelers in this life, and we are loving the adventures. Together by chance or by plan.