A Friendly Horse Stops By for a Visit
Yesterday afternoon I glanced out our motorhome window and saw a medium-sized black dog trotting by. Luckily, both of our dogs were asleep on the floor and didn't bark. I went back to my computer.
I looked up a few minutes later, and a horse was following the route the dog had taken. No humans were to be seen. We were camped on our land, which is in the middle of many acres of undeveloped land a few miles outside of Deming, NM.
As it happened, Kelly was out on the land with his camera. I was pleased to see him walking towards us, and he got this shot.
The horse continued toward him and he got another shot: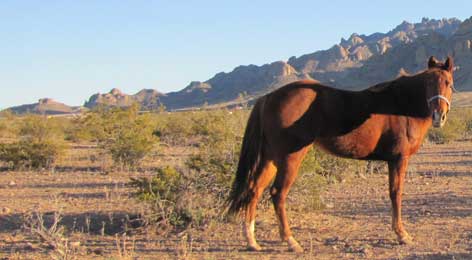 She walked right up to Kelly and let him rub her nose. Then she and the dog meandered on down the dirt road to the north.
Kelly came into the motorhome and told me that she could be the horse he had seen loose when we were camped here about a year ago. He had been about a mile southeast of here, wandering around with his camera. There had been a horse in a corral and one loose outside it. Nobody seemed to be home at the place, but Kelly saw a neighbor getting his mail. He went to talk with him, and the guy said that the owner let the one horse be loose.
Kelly had also seen the horse and the dog out roaming together a couple of weeks ago, but that was from a greater distance, and they had paid him no mind.
Cool. Kelly settled down at his computer for a while, and I decided to go collect rocks until we were ready for our usual late-afternoon walk with the dogs. Jasper can often be found just lying on the ground, and a dirt road to the east of our place has a lot of it. I took a bag and went collecting. Here is part of what I found in maybe 20 minutes.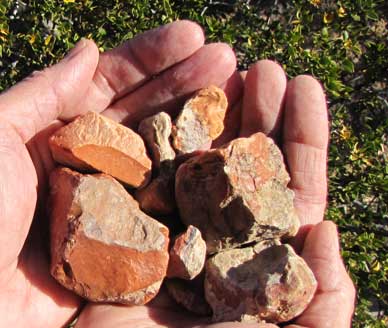 I glanced down the road I was on and was surprised to see the horse some ways away, running towards me, the dog at her side. It took them no time to catch up with me, and they were both exceedingly friendly. I'm used to friendly dogs, but I have never in my life had such a good visit with a horse. I patted her, talked to her, rubbed her neck and side, and she loved it. Kelly and I had a llama ranch, some years back, but llamas are typically more aloof  than this horse was being. I didn't know horses would be this eager for my companionship.
I realized that Kelly was likely to come out of the motorhome any minute with both our dogs on leash. Hmm, that could be difficult. Our Rottweiler is generally mellow but our little Sheltie cross is not. So I hurried back towards the rig, the horse and dog close at my heels.
Sure enough, Kelly did come out with our dogs, and it wasn't a great scene. Our Nicky was barking like a maniac, 85-pound Lola was pulling Kelly towards the horse, and the other dog was going nuts trying to protect the horse from our dogs. She was threatening to fight both our dogs, who were doing their best to wrap Kelly up in their long leashes.
We got our dogs back in our motorhome, Nicky yapping at full volume, loud and shrill. Then we decided to go for a walk and see if we could lure the visiting horse and dog away. It worked, sort of. We went back along that road where I'd been collecting rocks. The dog trotted along with us, while the horse got into grazing on what little bits of greenery are beginning to show. She lagged behind, and that was the last we saw of her.
But the dog stayed near us, keeping us company as we crossed the desert and tried to elude her by walking through a deep arroyo. That didn't work… I looked ahead and she was sitting on the rocks and sand deep in the gully, waiting for us.
She did lose interest when we got nearer our motorhome, and we went inside. Our dogs were eager to go out, but we weren't. So we made a phone call to our friend Vince, and then at dusk, we went out with our dogs. Nicky is always more cautious when it's dark or nearly dark, perhaps sensing that his little 25-pound self could become prey, but Lola was in a very playful mood. We four had a nice walk, with no visitors in sight.
UPDATE: Soon after I posted this blog entry, a friendly neighbor we had met last year stopped by… riding the friendly horse!