Our Motorhome Stalled Halfway Up a Hill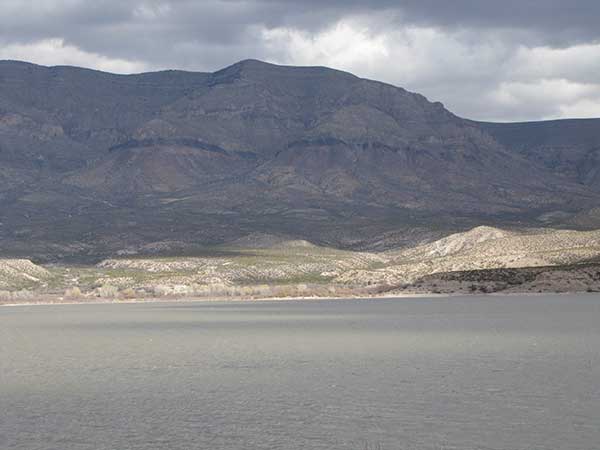 Living and traveling in a motorhome is not always fun.
For a couple of days, it had been great–we were boondocking at the end of an almost empty boat-ramp parking lot at Caballo Lake State Park, about 15 miles south of the town of Truth or Consequences, NM. We didn't need electricity, as our solar panels were producing plenty, so we hadn't parked in the campground where we'd have to pay $4 to have electricity and water right there and where our views would mainly be other motorhomes and trailers. We were closer to the level of the lake than anyone in the campgrounds, and watching sun and shadow on the lake and mountains was entertaining when we tore ourselves away from work on our computers. There were some great trails for long walks with the dogs. Ah, the good life!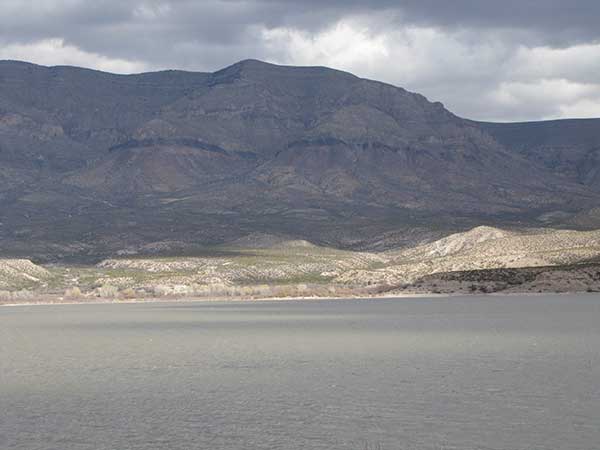 Yesterday morning after a work stint, we decided to go to the town of T or C, as it's often called. It just takes us a few minutes now to stow our computers, put the bungee cords around the plastic dog food containers, turn off the propane and the water pump, do a few other things, and be on the road. With both dogs in their crates, we left the campsite and drove up the hill.
Drove halfway up the hill.
The 1982 Chevy Tioga slowed, slowed some more, and stopped. I immediately calculated mentally that it had plenty of gas even for being on a relatively steep slope. Kelly tried several times to start it, but no dice.
"How about rolling back down the hill and into the parking lot?" I asked, helpfully I hoped.
"It won't go out of park," Kelly said. He tried again but the vehicle wasn't going anywhere. It was too steep a hill for him to get out and work on the engine.
At least we were in no immediate traffic danger. On this quiet Sunday morning, anyone who did come up the hill could easily see to pass us. They wouldn't be going fast since the road started at the lake boat ramp just below us.
Before leaving home, we had added the motorhome to our AAA policy. Kelly said we'd better call them. I pulled out my old cellphone and discovered that we had a poor signal right there, blocked by the hill, so I walked to the top of the hill and called. I got a national dispatch office, and they said someone would call back in a while. I told Kelly, who remained in the driver's seat, and I went off to find a nice spot to sit and wait. Pretty soon I was chatting with the campground host and one of the park rangers who happened to come by. They had a few ideas for what we could do.
When AAA called back, they said that the nearest tow truck that could handle our 24-foot rig was over a hundred miles away, but there was a service in T or C that could come out and try to get the rig started. If that didn't work, we could still get the towing. So I opted for the local mechanic and went and told Kelly.
He'd been sitting there for about an hour by then, and he got  that determined look on his face. If you know Kelly, you have probably seen the look. He tried starting the engine and it almost caught. He tried again and the rig roared up the hill to the top, where it was level. We consulted and then he went to the dump station, conveniently located right there, and dumped both the black and the gray water tanks.  He had to turn the motor off to do that.
"What if you're stuck there?" I asked.
"We could get it pushed out of the way there, since it's level," he said.
I walked around the campground to find us a nearby spot, and Kelly pulled into it just before the mechanic arrived. The two of them talked the whole thing over, and they agreed that the vehicle was not sufficiently warmed up when it went up the hill, so the engine faltered and then the carburetor got flooded by Kelly's attempts to restart it. By an hour later, the carburetor had cleared enough that it started.
"Sounds just fine," the mechanic said. "If you have any trouble tomorrow, I can tow you then."
We stayed another day in the campground… we'd had enough drama for one day. We were both relieved not to be towed someplace and have to figure out whether we and the dogs could stay in the rig while it was in a repair shop. Really, the best possible thing had happened.
We reminisced about the time–back in '79–that we were traveling in a Ford Econoline van in Guatemala and couldn't get up a steep mountain road that was the only way out of the remote area we'd been exploring. That time, Kelly took out his saxophone and sat on the hill by the van, playing jazz until a large truck came along that could tow us uphill. I still remember the music echoing in the lush green mountainsides.
This morning everything worked perfectly as we drove into town. Good thing too, as I was on the phone with tech support for a crisis with our websites.  But that got handled too.
Good soaks in one of T or C's many hot springs lifted our moods. Ah, the RVing life!