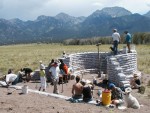 There's an information explosion going on, about earthbag building! When we built our earthbag house over fifteen years ago, there was almost no information in print. My husband Kelly Hart is part of the trend, with his website earthbagbuilding.com and the book he wrote recently. On this page I'll draw on my background as a librarian to describe the books available.
In a nutshell, earthbags are what you might think of as sandbags, polypropylene bags often filled with rice and other foods. To build with them, you fill them with earth from the site or with other materials, and you put down a row of the bags, then tamping them flat. Next comes barbed wire to dig into that row of bags and into the row you put above the barbed wire. And so it goes up. You stucco it as the polypropylene will degrade in sunlight. This is definitely a quick and dirty description of the process!
At the time of the massive earthquakes in Nepal, there were some earthbag buildings in use there, I think mainly as schools. They held up extremely well, so much so that in some towns people moved into them for sleeping! The way the earthbag structures held up in the quakes has increased worldwide interest in this building method.
Three Paperback Books About Earthbag Building
There aren't many books on building with earthbags. Here I'll list them in order with the most recent first.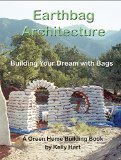 That's Kelly's book, Earthbag Architecture: Building Your Dream with Bags (Green Home Building Book 3). It came out in 2015. Of course I'm biased, being the wife of the author, but I think he did a great job of providing a comprehensive overview.
This is a 77-page book, which may not sound like a lot but it is 8.5 by 11 inches. It's laid out in two columns and there are about 240 full-color photographs inserted in the columns. The book starts with a foreword by earthbag builder Owen Geiger and then an introduction by Kelly. Then he gives you some background on the history of earthbag construction and answers the question "Why Build with Earthbags?" You can read this much of the book at Amazon using the "Look Inside" feature. (You may notice too that the book is available as a paperback and also in Kindle format. The Kindle version makes the book more easily available worldwide.)
"The Basics" section of the book explains in some detail how this construction method works. It covers:
What Kind of Bags Work?
Fill Material
Foundations
Filling and Laying the Bags
Tamping the Bags
Barbed Wire
Protect the Wall
What Shapes are Possible?
Buttressing
Openings
Arches
Bond Beams
Plaster
Roofs
Floors
Utilities
Hanging Cabinets, Etc.
Then there is a lengthy section on how we  built our own earthbag house in Colorado. We started with a small dome, guest cabin size, and once that was done, we had the know-how to start the house. On the house, we began with the bedroom dome.  The most ambitious part, the larger dome, was living room and kitchen, with an upstairs loft. We had some mishaps on that part and the book mentions them, on pages 37 to 40. Next we added a midsection between the bedroom and the large dome, a pantry, and a mudroom. Later came a pond and a separate structure, a Quonset hut kit which we covered with earthbags to make a combination garage and upstairs office. Each of these projects is described.
The last chapters in the book cover some other earthbag projects Kelly has been involved in, and there is a photograph-rich section on earthbag buildings around the world. Kelly also reflects on the future of this unique construction method. There is a page of resources: websites, books, DVDs, workshops, and bag supplies online.
---
 Earthbag Building: The Tools, Tricks and Techniques (Natural Building Series) came out in 2004. It's by a couple, Kaki Hunter and Donald Kiffmeyer, well known in the natural building community as Kaki and Doni. (Please note that the clicking on the book image or the title takes you to the main Amazon page for this book. With a lot of independent sellers also offering the book through Amazon, I noticed that prices on other pages can be much higher.)
This book has done a tremendous amount to get the word out about building with earthbags… I wonder how many earthbag homes have been built because of it! A Mother Earth News Book for Wiser Living published by New Society Publishers, it's a high-quality, comprehensive guide. The illustrations include numerous diagrams and photos; the color photos are inserted in one section. I was pleased to see it's out in Kindle format as well as paperback. Here is a list of the chapters… imagine within the chapters many  illustrations and step-by-step instructions.
Chapter 1: The Merits of Earthbag Building
Chapter 2: Basic Material for Earthbag Building
Chapter 3: Tools, Tricks, and Terminology
Chapter 4: Foundations
Chapter 5: Structural Design Features for Earthbag Walls
Chapter 6: Step-by-Step Flexible Form Rammed Earth Technique, or How to Turn a Bag of Dirt into a Precision Wall Building System
Chapter 7: Electrical, Plumbing, Shelving, and Intersecting Walls: Making the Connection
Chapter 8: Lintel, Window, and Door Installation
Chapter 9: Roof Systems
Chapter 10: Arches: Putting the Arc Back into Architecture
Chapter 11: Dynamics of a Dome
Chapter 12: Illustrated Guide to Dome Construction
Chapter 13: Roofing Options for Domes
Chapter 14: Exterior Plasters
Chapter 15: Interior Plasters
Chapter 16: Floors
Chapter 17: Designing for Your Climate
Chapter 18: The Code
Appendix A: Build Your Own Earthbag Tools
Appendix B: How to Figure Basic Earthbag Construction Costs, Labor, and Time
Appendix C: Conversions and Calculations
Appendix D: The Magic of a Circle
The book ends with a Resource Guide and Index to its more than 250 pages. I wish it had been available when we were building our earthbag house. That said, there are some differences between the methods in this book and in Kelly's approach. The best place to see them is in Kelly's customer review of Kaki and Doni's Earthbag Building on Amazon, the first review on that page. Of course there are differences… we are all individuals. And people who pioneer new methods all the more so!
---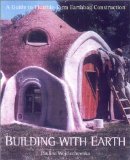 Paulina Wojciechowska's Building With Earth: A Guide to Flexible-Form Earthbag Construction was published by Chelsea Green in 2001 and is now out of print. I'm listing it here anyway because there are usually used or new copies available at reasonable prices.
Paulina traveled widely in the U.S. as she collected information for this book. I have fond memories of her climbing around on our main dome as she helped us build! The chapters of her book each have numerous sections:
1. Earthbag Architecture
2. Using Basic Structures from Nature to Build with Earth
3. Getting Started: Design, Siting, and Foundations
4. Building with Earthbags
5. Roofs
6. Weatherproofing and Finishes
7. Othere Interior Walls, Floors, and Furnishings: Building with Clay
8. The Earthbag Adventure
This last chapter is fun. Paulina visited a number of homes and writes about them. We're in there, along with Kaki and Doni and others. This continues to be a very worthwhile book!
---
Books Available in Digital Formats Only
In PDF Format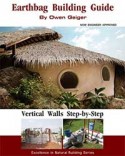 Our friend Owen Geiger has written Earthbag Building Guide, which is available only in PDF format. That link takes you to a page which describes the book, complete with a very detailed table of contents. You can print PDF files (unlike Kindle files), so you could get a hard copy that way. Chapter titles are: Dirt Cheap Shelter, Choosing a Plan, Tools, Supplies, Foundations, Bag Walls, Tube Walls, Openings and Details, Lintels and Bond Beams, Insulated Walls, Roofs, Plaster, Finishing Details, and First Projects. To buy the book from that page, click on the image of the book cover.  This is the only book I know of on earthbag building which is also available in Spanish! The link for the Spanish version is lower down on the same page that I've linked to here.
Kindle Ebooks
Besides Kindle versions of the first two paperback on this page, I found three other Kindle books on earthbag building:
Here is a 2015 reprint of a book by the father of earthbag building, the late Nader Khalili. Emergency Sandbag Shelter: How to Build Your Own is available at a very reasonable price as a Kindle book.
When I was last at that page, you could get it used or new in hard copy, but as I mentioned above about Kaki and Doni's book, some of the sellers are asking very high prices. For that reason, I'm listing this one in the Kindle section.  It's not a general earthbag building book as much as it is about a particular method of making an earthbag shelter, using what Khalili calls superadobe.
---
This book is very recent, coming out very shortly after a group of men traveled to Nepal from the U.K. and built an earthbag school. I love the title, Rebuilding Nepal: One Earthbag At A Time. I happened across this book one evening when I was looking for something to read in the Kindle Unlimited program, where I pay about ten bucks a month and can read many interesting books. This one certainly fell in that category. I was reading it on my iPad when my husband asked me what I was reading. Ha! Probably the first time I've read an earthbag book he didn't know about!
---
Here's one I didn't know about either: How We Built A Low Cost Tornado Shelter.
The method used is of course earthbag building and the author says that they learned enough online to do the project.
A good example of how the methods are spreading via the written word.
---
Well, this page now lists all the earthbag building books that I know of. If you find out about any others, please send me a message on the contact page of this site. A large resource for information on all aspects of the topic is my husband Kelly's website earthbagbuilding.com, which I mentioned at the start of this long article. So there's plenty to read on the subject! I went to Youtube to look at the video selection and I was surprised at how many came up when I just typed in the word earthbag. Here's a link to that search.