Fascinated by Ravens and Crows: What I Learned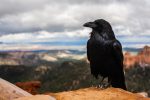 After we moved to a hillside in a town in New Mexico, we developed the habit of watching the ravens in our neighborhood. They go by, often in groups, and we watch them settle on trees nearby.
Then I got caught up in some reading about them.
I knew they were smart but I didn't realize just how smart.
Ravens and Crows: What's the Difference?
In a nutshell, ravens are larger and they soar more.
A video is a good way to see the difference…
Books I Recommend about Ravens and Crows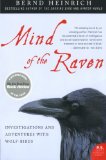 The first book I read was about ravens. Mind of the Raven: Investigations and Adventures with Wolf-Birds, by Bernd Heinrich, really got me involved.
The author lives in New England and he raises ravens, rescuing wild ones. He goes into lots of detail in his tales of the different birds and their unique personalities. They have a variety of moods. They play. They are much more like us than I ever realized. Heinrich learns so much about them by being out with them, often in the bitter cold. I'm grateful that I could benefit from the results of his work!
He has traveled to many other places to see ravens. This is one of those books that expanded my awareness of our world. I even played with writing a novel about a human (that would be me) communicating telepathically with a raven!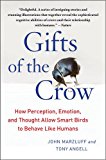 Next I read Gifts of the Crow: How Perception, Emotion, and Thought Allow Smart Birds to Behave Like Humans, by John Marzluff and Tony Angell.
Here's a short summary of one story from this book. A couple in Arizona rescued a crow that had gotten caught in their fence and appeared exhausted from its efforts to get free. They wrapped the crow in a towel and set it down to rest. The woman talked softly to it and about 20 minutes later, it flew off. A few months later, they noticed a crow hanging around their place and visiting their bird feeder. When it started leaving gifts–a dead mouse, regurgitated seeds and bits of meat, and sticks–they surmised that it was the same bird. Gifting is a known behavior in crows. (Page 113 tells the story much better than I did here.)
Chihuahuan Ravens in Southwest New Mexico
Chihuahuan Ravens may be the ones we are seeing. In any case, they got our curiosity… and we found this: https://www.allaboutbirds.org/guide/Chihuahuan_Raven/id
And also this: http://sdakotabirds.com/species/chihuahuan_raven_info.htm
I went to YouTube and found some videos of Chihuahuan Ravens… In the first one, there is no reason given for the raven being in captivity but there must be a good reason. Vincent is smart all right!
Here's just 13 seconds of a free-flying Chihuahuan Raven:
Wonderful birds! And here's a photo I liked: