Do Camisoles Increase the Chance of Avoiding Breast Cancer?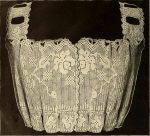 Wearing camisoles may significantly reduce the chance of getting breast cancer. This is controversial, but there is enough good evidence that many women have switched to wearing camisoles as much as possible.
Dressed To Kill: The Link between Breast Cancer and Bras
This book by a husband-and-wife team of medical anthropologists is widely cited on the websites I read while researching this article. Click on the image below to read more about the book. I clicked on the "Look Inside" link at Amazon and was fascinated to read the introductory pages. The story of this connection has been suppressed by those who make money on mammogram machines and others. The suppression was compared with the way data about lung cancer and smoking took many years to be widely known.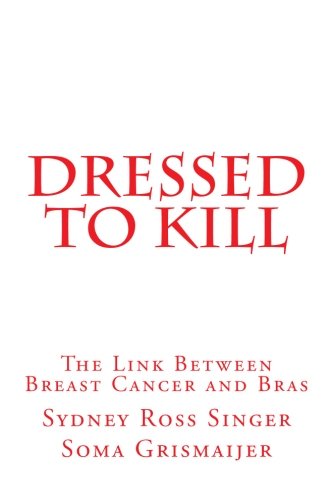 Some of their findings: women who wore bras all the time, day and night, had a 75% chance of developing breast cancer, where women who wore them less than half the time had one chance in 52. Quite a difference, but women who never wore bras (or very rarely) had one chance in 168. 
What a relief to learn that falling in that last category greatly reduced my odds!
Some Camisoles at Amazon
Here is a selection of the best-selling camisoles at the time I researched.  The images below are not exactly colorful but the second and third of these items do come in various colors… that's the Jockey and the Semath. Also, if you are thinking of getting a camisole and not sure about the size to order, in many cases the customer reviews will prove helpful.
 Fruit of the Loom Women's 3 Pack Cotton Tanks, Assorted, 6/ Medium Jockey Women's Tops Supersoft Camisole, black, XL Semath Women's Fitness Workout Vest Tanks Cami Soft Racerback Loose Tank Top Vassarette Women's Microfiber Camisole 17072, White Ice, Medium PURE STYLE Girlfriends Women's Camiflage Breathable Stretch Lace Half Cami, Black, Large Vassarette Women's Tailored Anti-Static Camisole 17109, Black Sable, X-Large
&
More about the Pros and Cons
The argument for wearing camisoles goes like this: Tight bras constrict and since we all carry environmental pollutants in our bodies, we need the movement of the lymph in our system to keep the toxins from staying put. Metal-wire bras are said to be worse because they are usually tighter.
I must have gone to a dozen websites about breast cancer prevention while researching this article, and almost none mentioned clothing. The Mercola website had a good article from 2009 which drew on the research of that book I mentioned and more.
An excellent website I found was by Elizabeth R. Vaughan, MD. She has a page of FAQs  which I recommend to anyone interested. From there, you can also read about breast health and research.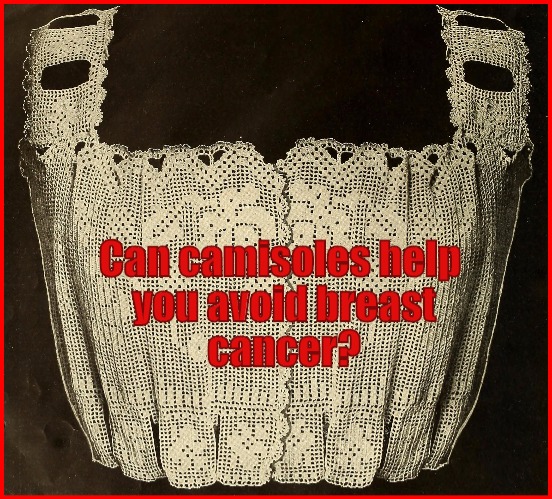 Isn't this a cute antique camisole? It's here in case you want to link to social media.
My Favorites: Cotton Camisoles, Preferably Organic
Here is a selection of cotton camisoles, mostly organic. Some of them have shelf bras built in, some don't. I have worn the Maggie's Organics camisoles for at least ten years.  I was wearing camisoles because they were comfortable, not realizing they were healthful as well.
The last item on the second row here, the Bella Donne ones don't seem to be organic cotton–and  they are 5% Spandex–but they come in a variety of colors, cost less, and shipping on most of them is Amazon Prime, which I couldn't tell till I selected one. Not for larger women, it seems from their size chart. Oh well, there are lots of camisoles in this world!
 Maggie's Organics Camisole (Black) Ecoland Women's Organic Cotton Classic Tank Top – Natural PACT Women's Shelf Bra Camisole, Black, X-Large PACT Women's Everyday Shelf-Bra Camisole, White, Small PACT Organic Cotton Shelf Bra Camisole Style SFA-WCB (XS, Wave) Only Hearts Women's Organic Cotton Lace Trimmed Camisole, Bone, Medium Maggie's Organic Cotton Camisole (Quarry Grey) PACT Women's Watermelon Camisole, Watermelon, Large Camisole and Shorts Lounge Set (Small, Luck Camisole/Teal Shorts) Belle Donne – Women's Spaghetti Strap Tank Top Camis Basic Camisole Cotton – Mocha / L
&