Colorful Womens' Cotton Camisoles Are Useful and Fun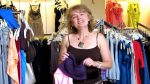 When you go looking around Amazon or pretty much anywhere for women's camisoles, it's obvious that black and white are the colors in style. It makes practical sense to have some of those, but my tastes run to colorful womens' cotton camisoles. So as much for myself as for you, I made the chart below. By the way, I recently wrote about how wearing camisoles may help to prevent breast cancer.
You might notice that even in this chart many of the images show basic black or other muted tones. I examined every product that is here, and even if you don't see it below, these are all products that also come in cheerful colors.  You'll see a variety of sizes, from juniors to camisoles in plus sizes. If you go to Amazon and are looking at some of these, do be sure to check readers' comments regarding size. Quite a few seem to run small or very small. Also, check the size chart if there is one.
Many of these are mostly or all cotton, but a few others are something else but I liked the colors enough to leave them in. Some have shelf bras, some don't. I was amused by the last one in the chart, as I'm old enough to remember when wearing something like that could get you arrested!
 Camisoles with Adjustable Straps Premium 100% Cotton 6-pack Jockey Women's Tops Supersoft Camisole Ibeauti Women's Camisole Tops with Built in Bra V-neck Padded Tank Top Womens 2 Pk Soft Cotton Plain Long Tunic Cami Tank Top with Adjustable Straps Plain Long Spaghetti Strap Tank Top Camis Basic Camisole Cotton Plus Size Micmall Cami Camisole Cotton U Style Lace Spaghetti Strap Women's Tank Top 4 Pack: Active Basic Cami Tanks in Many Colors 2 or 4 Pack Active Basic Women's Plus Size Basics Cami Tank Top Belle Donne – Womens Cami Dress Fashion Tank Top Basic Camisole Cotton Caramel Cantina Shelf Bra Cami Tank-Top in Assorted Colors 2 or 4-Pack Caramel Cantina 3 Pack Cotton Racerback Tanktop Women's Camisole Built-in Shelf Bra Adjustable Spaghetti Straps Tank Top Pack Emmalise Women's Basic Casual Long Spagetti Strap Camisole Cami Top Regular Plus JJ Perfection Women's Stretch Adjustable Strap Lace Trim Camisole Tunic Tank Top Cami Camisole Built in Shelf BRA Adjustable Spaghetti Strap Tank Top Plus Size Womens Soft Stretchy Solid Color Essential Spaghetti Strap Long Tank Top Cami Bozzolo Women's Junior & Plus Adjustable Spaghetti Strap Lace Trim Tunic Tank Top Beverly Rock Juniors Spaghetti Strap Tank Top Camisole Cotton (Pack Of 12 Or 6 Or 1) Sofra Women's Tank Top Cotton Ribbed Belle Donne- Womens Cami Dress Spaghetti Adjustable Straps Lace Trim Solid Camisole Women Plus Size Cami Built in Shelf Bra Adjustable Spaghetti Strap Tank Top Micmall Cami Camisole Short Cotton Round-Neck Design Seamless Women's Tank Top Women's Active Basic Plain Basic Camisole with Spaghetti Straps Women's Lace Trim Cotton Jersey Spaghetti Strap Camisole Tank Top Simlu Cotton Cami Spaghetti Strap Tank Tops Pack Plus Size Camisoles for Women Premium Quality 100% Cotton Stretchable Racer back Tank Tops 6:Pack Sofra Women's Loose Fit Tank Top Relaxed Flowy Woman Plus Size Spaghetti Strap Cotton Tank Top, Multiple Colors Available Handlife® Women Summer Bamboo cotton Tank-sleeveless Loose Singlets Cami Shirts REINDEAR Fashion Women Patriotic American Flag Print Lace Camisole Tank Top US Seller
&
And just for fun, here is a video about colorful tank tops or camisoles. I haven't tried these, and likely won't as I prefer cotton over the nylon these are made of, but I like her point of view about color!
Which of the colorful cotton camisoles will I end up with? Hmm…
And for a little contrast, here are the most wished-for camisoles, tanks, and related items at Amazon currently:

Product prices and availability are accurate as of the date/time indicated and are subject to change. Any price and availability information displayed on [relevant Amazon Site(s), as applicable] at the time of purchase will apply to the purchase of this product.