How to Set Up a Renogy Solar Starter Kit
We were chatting with friends the other day about solar panels for RVs and cabins. I suggested they consider RV solar panel kits and offered to do some research. I like the idea of kits for most people because you don't have to be particularly knowledgeable. Typically you get a better deal on a kit too. With our U.S. power grid in not-such-good shape (link to my article about this), getting a small, inexpensive solar kit offers a significant level of versatility.
So I went looking for solar panel kits. When I sat down at my computer, I soon discovered the immensely popular Renogy 100 Watts 12 Volts Monocrystalline Solar Starter Kit.
That kit looks like this: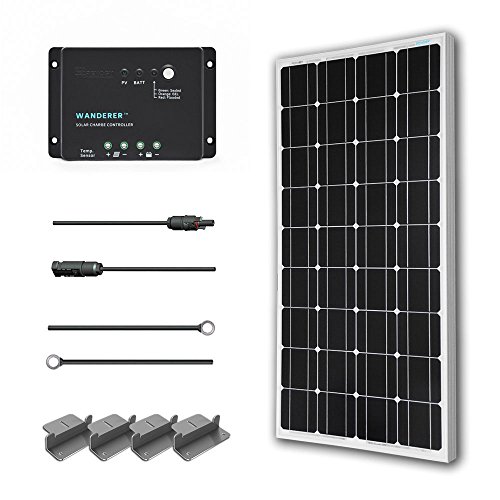 You buy your battery or batteries locally.
The same company has some other choices I'll mention later.
Renogy's Video on How to Set Up Their Solar Starter Kit
I was pleased to find this video which is quite useful for setting it up. It's for the Renogy 100 Watts 12 Volts Monocrystalline Solar Starter Kit, the very one I had spotted. It doesn't cover how to mount the panels but it does go over how you attach the various parts to each other. Also, Renogy has over two dozen videos up on YouTube — so if you want to see more,  just go there and put Renogy in the search box.
This can be used in a cabin, an RV, a boat, and so on. To use it with appliances that use house current, you will need to add an inverter as well. If there is part of the year when you aren't using your rig, be sure to trickle-charge the batteries, for example with the solar panels.
A Couple of Tips on Setting This Up
Well, before you even select it, be sure it will provide you with enough power… here's an article about the power requirements of laptops and similar devices.  This kit can be extended to a maximum of 400 watts from the 100 it is at first.
If you have any questions or get bogged down on something, contact the Renogy customer service. Many people commented online on how good it is.
About Renogy
This is an American company, started by a group of university students some years back. It grew and grew… Here is a short video they produced that gave me a sense of confidence in their professionalism.
Their website, unsurprisingly at renogy.com, has a learning center with FAQs, downloads, and caculators such as a solar-sizing calculator.
A Few Related Products from Renogy
Renogy 100 Watts 12 Volts Monocrystalline Solar Panel  — just the solar panel, not the kit, immensely popular, and you can order them in batches
Renogy 100 Watts 12 Volts Monocrystalline Solar Bundle Kit — the manfacturer says "comes with components that you will need to expand on a system you may already have, or just need some items to complete your system." Cost is just a bit less than the kit I've featured above.
Renogy 200 Watt 12 Volt Monocrystalline Solar Starter Kit with Wanderer — this one is 200 watts, or twice the capacity, and also very well regarded by the public.