Why Did Friends Go Crazy Over Potato Eggplant Curry?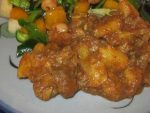 We had a dinner party the other night, and I cooked up a storm of recipes I had found and adapted from a wonderful Indian vegetarian website I recently discovered, Give Me Some Spice. After starting with soup, the Potato Eggplant curry was the main dish I served (here's the original recipe on that website) and our friends raved. Even my husband said it was better than the time I had tried it out on him.
Why?
Spices!
With cumin seeds sizzling in the cooking oil and garam masala adding its exotic flavors, this was one flavorful  dish. Those links take you to Amazon… I was able to get both these things, and several other spices, at our local food coop, but it took me a couple of trips to find everything. I hadn't had the garam masala the first time I cooked it.
Anyway,  here is my Americanized version of this inexpensive, filling vegetarian recipe. The quantities are versatile… more or less will likely be fine, or even none if you have none of a spice. Organic is always better.
This can be made ahead of time, and by the same token, leftovers are good. Actually, there have been practically no leftovers when I've made this… I may have to double the recipe next time!
Ingredients
3 medium potatoes
1 large eggplant
2 T olive oil
1 tsp cumin seeds
1 tsp salt
1 tsp chili powder
1 tsp brown sugar
1 tsp tumeric or a curry powder blend
1 tsp ground cumin
1 tsp garam masala
2 or 3 cloves of garlic
2 tsp lemon juice
1/2 cup tomato sauce or paste
For garnish, small bunch of fresh cilantro
Also for garnish, sour cream or yogurt.
What to Do
Cut up the potatoes and eggplant into small pieces. I left the skins on the potatoes and peeled them off the large eggplant I had.
Heat the olive oil in a large frying pan or a saucepan. Once it's hot, put in the cumin seeds. They will "pop" not like popcorn but at least bubble a bit. Let them do that a little while.
Add the potatoes and and eggplant and stir.
Add the next four items and stir well.
Add one cup of water and cover.
Cook over low or medium heat, checking it now and then, until the potatoes are soft, say 15 or 20 minutes. (The eggplant is likely to have turned to mush before this.) Add more water if it doesn't seem like quite enough.
Add all the remaining ingredients and cook a few minutes for the flavors to blend. The tomato paste or sauce makes the dish thicker and prettier, as well as adding a good flavor.
Garnish with a little fresh cilantro, or put it on the table for people to help themselves.
As I started this blog post by saying, it's the spices that really make this dish! Do share this recipe on Pinterest if you feel like it…