Crossbody Purses: Practical and Secure, But Comfortable?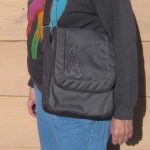 Women's crossbody purses are practical in how you can get into them without removing them and they are more secure for going places than conventional shoulder bags. And they are certainly stylish and available in many colors and in cute patterns. (Some of these bags would be suitable for men as well.)They come in all price ranges, from inexpensive to top-of-the-line designer bags. I will be exploring the inexpensive ladies' crossbody purses here. How comfortable are they? In a nutshell, picking an adjustable one gives you the best chance at comfort.  If you are in a hurry, here's a link to the best-selling women's crossbody purses right now on Amazon.
Most Important: How the Bag Fits You
Women come in all shapes and sizes of course, and fortunately so do the bags. How long is the strap and will it hit where you like it to? How comfortable is it and where is it going to go across your chest? I thought that slender women might have an advantage here, but in forums I read, some women said that these bags were great for everyone and other women said that they were not. So go figure! Pay attention especially to how long the strap is… and don't overload the bag…
The Kipling line of crossbody bags were mentioned quite a few times in the forums because they are lightweight bags to start with, so I'm featuring them in this article. Read the reviews to see if they would suit you, watching specially for how much they hold and how comfortable other women have found them to be.
Kipling Crossbody Bags
Here are four of the most popular Kipling Crossbody bags, in varying sizes. One thing I like about all four of them is that they come in many, many colors! (The colors may vary in price and in whether they are available from Amazon Prime, I noticed.)
 Kipling Aisling, Black, One Size
 Kipling Keiko, Black
 Kipling Alvar Crossbody, Vibrant Pink, One Size
 Kipling Syro, Bran
&
Best-Selling Women's Crossbody Bags Right Now
Amazon has a feature where they update the best-sellers in every category hourly. Here is a link to the list of the best-selling women's crossbody bags right now. This is where you can find the smallest, most elegant  ones in abundance.
I wear fanny packs and I carry shoulder bags. Neither has been perfect for me. The only crossbody I have is the one I'm wearing in the image below. It's a combo shoulder and crossbody, perfect for holding a lot including my iPad and a lot more. But it ends up being quite heavy. I'm quite sure that a woman's lightweight crossbody purse would have its place too.