Best Portable Space Heaters to Keep You Warm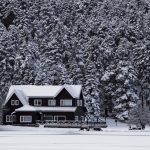 There are many times when a portable space heater is a good choice for staying warm. You may be concerned about your heating bill or you may want to just heat where you are, not your whole home. In our home office we have small electric space heaters near our desks for when we are sitting there. The newer portable heaters tend to have some great temperature control and safety features… If you are using older models, you might want to upgrade. In a hurry? These two heaters, at different price points, are highly regarded in many places online:
 Lasko 754200 Ceramic Heater with Adjustable Thermostat
 DeLonghi EW7507EB Oil Filled Radiator Heater Black 1500W
&
Kinds of Electric Portable Space Heaters
There are four kinds:
Ceramic heaters use a fan blowing over a ceramic part. They provide a quick and steady heat, as the ceramic part heats up and holds the heat.
Oil filled radiators look like old-fashioned radiators and provide slow but steady heat. They are slow to heat up and cool down. They don't have any kind of fan so the heat will go where the room air currents takes it, but you also are not listening to fans. Because of their construction they tend to be quite safe. They also tend to be economical. You never need to change the oil inside them. (When you first buy one, it's possible a little bit of oil would be on the exterior from the manufacturing process, so start it up in a garage or outside and let that burn off… if there is any.)
Infrared radiant heaters  produce a lot of heat yet the best ones are designed so that you aren't likely to hurt yourself by touching the really hot parts. They may come with some nice bells and whistles, like remote controls. They can be used in relatively large rooms. They warm the objects they point at more than the air in the room.
Fan heaters tend to be older models and may have fewer features. They can be quite inexpensive but may use more electricity than newer heaters. You may have some of these around, but none of my recommendations are for them, as ceramic heaters have pretty much supplanted them.
Most of these heaters use 1,500 watts or less. How energy-efficient are they? It depends partly on how you use them. Watch for ones that have both low and high settings when in use, or that have thermostat controls.
Electric Space Heaters: Reviews
Electric space heaters are far more common than non-electric. With over a dozen tabs open in my browser, I went surfing the net for electric space heater reviews and comments. Here are some of the heaters that came up repeatedly. Of course, I read reviews at Amazon.com but I don't limit myself to those. I also read reviews on websites that do field testing of different heaters.
All of these were eligible for Amazon Prime at the time of this writing. I look for that feature when I'm doing reviews, partly because some independent sellers don't offer their products that way and tend to raise their prices. By the way, if a cold spell is predicted or arrives, availability of heaters may be a problem for a while, so a bit of preparedness is suggested!
So What ARE the Best Electric Space Heaters?
Staying here with the same categorization from above, here are my picks for the best ceramic space heaters and the best oil-filled radiators, plus some ideas for infrared radiant heaters.
Ceramic
The inexpensive and small Lasko 754200 Ceramic Heater with Adjustable Thermostat is the #1 best seller in space heaters at Amazon.com as I write this, and it has more reviews than I have ever seen on any product at Amazon… over 10,000! As with all electric heaters, there are safety factors discussed in the reviews. I wouldn't chose this for a bathroom heater (for that, see the one I have listed further down under Safety Tips), nor would I put it where my dogs could bang into it or knock it over while playing, but then I'd watch that with most heaters. Arguably this is the best small electric space heater out there!
 Lasko 754200 Ceramic Heater with Adjustable Thermostat
&
Here are four more of the best ceramic space heaters. Like the one above, they are all made by Lasko, which seems to kinda own this category. These images make them look about the same size, but they aren't. And they vary in their features too.
 Lasko 751320 Ceramic Tower Heater with Remote Control
 Lasko #100 MyHeat Personal Ceramic Heater
 Lasko 6435 Ceramic Oscillating Heater with Remote Control
 Lasko 6462 Full Circle Ceramic Heater with Remote
&
Oil-filled Radiators
The DeLonghi brand seems to make the best in this category. And the winner here is the DeLonghi EW7507EB Oil Filled Radiator Heater Black 1500W. Here is what it looks like:
 DeLonghi EW7507EB Oil Filled Radiator Heater Black 1500W
&
And here are more to consider:
 DeLonghi TRD40615T Full Room Radiant Heater
 Optimus H-6003 Portable Oil Filled Radiator Heater, Mini, 16 x 6 x 15 inches
 Honeywell HZ-789 EnergySmart Electric Oil Filled Radiator Whole Room Heater
&
Radiation / Infrared
A best-selling infrared heater is the Dr Infrared Heater Portable Space Heater, 1500-Watt. All the heaters of this kind that I found now come in cabinets. They tend to weigh more because of this. They heat larger areas and are less suitable for lugging around the house. Here is that one on the left,  plus a couple more of the most popular ones:
 Dr Infrared Heater Portable Space Heater, 1500-Watt
 Lifesmart 6 Element Large Room Infrared Quartz Heater w/Wood Cabinet and Remote
 Duraflame 9HM8101-O142 Portable Electric Infrared Quartz Heater, Oak
&
What About a Non-Electric Space Heater?
When I started writing this article, I was dubious about non-electric unvented space heaters. We have some  experience with small propane space heaters, going back decades, and I can still remember the smell of the propane fumes I breathed in back then. Ugh.
But technology changes, and there are now some unvented portable propane heaters that have been reviewed as safe for indoor use. I'd be sure I had a carbon monoxide detector in my house, which I do anyway. And I might well crack open a couple of windows. I'm ultra-cautious!
The risk of electricity going off during cold seasons does exist, whether from storms or from various other problems on our aging electrical grid. (See my review of noted newsman Ted Koppel's Lights Out!) It's worth thinking about ways you and your family could stay warm if the power is out. This could include using a fireplace or wood stove… or using one of these units. If you want one for preparedness purposes, get everything you need (hose, propane) beforehand.
One brand that I found favorably reviewed on several websites is Mr. Heater. In our RV we have successfully used  a Mr. Heater F215100 MH4B Little Buddy 3800-BTU Indoor Safe Propane Heater, Medium which we ran on those little (and relatively expensive) propane canisters to warm up the bathroom before showering. If you want to use those canisters in an emergency, get plenty of them ahead of time! In any hint of a crisis, I predict that they will sell out.
Here are a selection of the Buddy line of Mr. Heater products. Some can use propane tanks as well as the little canisters, and you may need to buy additional hose, which Amazon also carries. Note that some of the heaters are similar models which are approved for use in Massachusetts and Canada, which presumably have more stringent regulations. I might consider them wherever I lived… they didn't seem to be more expensive. Read customer reviews to help you… some of them discuss using these during power outages from storms.
 Mr. Heater F232000 MH9BX Buddy 4,000-9,000-BTU Indoor-Safe Portable Radiant Heater
 Mr. Heater F274830 MH18B Big Buddy Grey Indoor-Safe Portable Propane Heater (4,000 , 9,000 and 18,000 BTU)
 Mr. Heater F274865-Massachusetts/Canada Portable LP Heater
 Mr. Heater MH9BX-Massachusetts/Canada approved portable Propane Heater
&
Safety Tips
The New York Times says that it's been some time now that space heaters generally turn off if tipped over or if they exceed certain temperatures. And recently…
Manufacturers have begun building models that are cool to the touch and have motion sensors that will shut down the units whenever anything or anyone idles close enough to burn (among other features). Source
According to a government webpage about portable heaters, there certainly are dangers in being too casual about using them:
The U.S. Consumer Product Safety Commission estimates that more than 25,000 residential fires every year are associated with the use of space heaters, resulting in more than 300 deaths. In addition, an estimated 6,000 people receive hospital emergency room care for burn injuries associated with contacting the hot surfaces of room heaters, mostly in non-fire situations.
Some basic portable heater safety tips include:
Get a heater that turns off if it is tipped over.
Regularly check the condition of the heater and its electric cord.
Keep it 3 feet away from anything that could burn.
Only have it on when adults are in the room.
Don't use them in the bathroom, because most of them are not designed for that. But here is one model that is meant for bathroom use, the Holmes Digital Bathroom Heater. It has a bathroom-safe ALCI plug. You'd still need to be careful around it.
Here's a link to more detailed space heater safety tips from the Electrical Safety Foundation International. And here is a short video from the same people:
What We Do to Stay Warm in Our House
My husband Kelly and I live and work in a 1940s adobe house in a mountain town of New Mexico. Because of the 6000 foot elevation, it gets colder here at night relative to the daytime than at lower elevations. Our home office is on the north side of the house, and we each have a portable electric space heater near where we sit. A huge bookcase divides the office for privacy, so whatever one of us does for heat doesn't much affect the other person.
On cold winter mornings, we use the house furnace first thing. It typically goes off by midmorning and then comes back on later in the afternoon and into the evenings; we keep it on the thermostat. This may get less use this coming winter, though, as Kelly insulated and then stuccoed the entire house over this past summer. With all the thermal mass of the adobe combined with the insulation, we are expecting the house to naturally stay in a more even temperature range.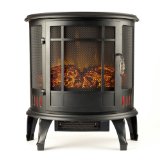 In the living room, our house has a pretty little fireplace built in to the interior wall of the living room but the chimney is not large enough to use it for wood fires.
We installed a Regal electric fireplace there.
We use it to gaze at the "flames" and sometimes to warm up the living room if we are there. It's fun that you can set it to have the flames showing without heat if you wish, and we do this most evenings.
Other things we do:
We dress warmly.
We take full advantage of our small hot tub, located in our attached greenhouse. Tubbing keeps us warm.
When watching television in the evenings, I usually throw a lap robe over me, and not just my lap! (We are a typical couple in that women tend to prefer more warmth than men.)
We prefer to sleep in a cool bedroom, as that is known to be conducive to good sleep, so we don't have a portable heater in the bedroom.
If you are on Pinterest, I'd appreciate pinning this post!
I used several sources for this article. Amazon is a great resource, and here is a page to check: Current Best-selling Space Heaters. Here are two other sites I read: The SweetHome, HeaterLab.