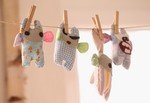 When my husband and I  lived  in Mexico, in a little cabin that we bought, we had a 25-year-old washing machine which worked great and didn't mind the vagaries of our electric current there. We dried our clothes on clotheslines. At the start of our second rainy season I muttered something about getting a clothes dryer and Kelly responded by putting a roof over a walkway behind the house and adding more clotheslines. Worked fine.
Now we are back in Colorado, and our house came with a relatively new washer and gas dryer. Kelly plans to continue drying his clothes on a line he will string in the solar greenhouse that is attached to the house. I think I will do my laundry both ways, sometimes clothesline sometimes dryer. Here's why:
Things I like about using a clothesline:
It's free, once you buy the line and the clothespins.
It uses no electricity or gas.
The clothes, sheets, and towels smell great.
It's excellent stretching exercise, specially if the line is up quite high, as ours was.
Reasons I look forward to using a clothes dryer also:
It does a better job of getting lint off the clothes, specially when you leave a tissue in your jeans pocket but also if you wash a dark t-shirt with a bunch of light things.
T-shirts and turtlenecks come out more tightly shrunk.
It takes less time.
I can do it any time of day or evening.
I am always balancing living in the most ecological way possible with other factors, in this case with time and how my clothes look. Do I think the planet should suffer so I get the lint off my clothes? Indeed not. But I also think this is a world of tradeoffs. We only use gas clothes dryers, we only wash our clothes when they actually need it, and I make a donation to a carbon neutral place every year. UPDATE: Turns out I almost never use the dryer.
Here are some different types of clotheslines and racks: