Floods, Hurricanes, Fires, and Money May Point to New Ways of Living
I Used to Live in Sonoma County
Whenever I followed hurricane news, I couldn't help but wonder how life would unfold for people whose families and homes were affected. But when forest fires went roaring through Sonoma County and other parts of Northern California, I mourned for a city I loved. I had moved to Santa Rosa in 1969, as a young librarian with a new job, and I lived in Sonoma County for over ten years. I met my husband Kelly there. I had the pleasure of being the first librarian in the new Sebastopol Library. When Kelly and I moved away, it was with mixed feelings. When we went back there, we had so many people to visit. I stopped in at the Sebastopol Library, and the librarian remembered me. It looked different with computers there… I ran it before they came along.
When the forest fires started in Santa Rosa, I was obsessively glued to the internet. Familiar street names evoked memories of potlucks and other happy events. One place I rented must have burned, and remembering its poison oak makes me wonder how badly the fires have caused people to suffer from burning poison oak.
One couple, a former brother-in-law and his wife, had to evacuate in the middle of the night on that first terrible night, but a few days later they learned that their house survived.
What will it be like when people move back in, surrounded in some cases by vacant lots and toxic ashes? What will it be like for the people whose homes burned to the ground? Of course it isn't just California that is having bad fires.
How People Are Coping
Many people in Santa Rosa and around there escaped with practically nothing, often just with dogs, cats, cellphones, the clothing or nightclothes they were wearing, and maybe a purse or wallet. Most had shoes but not all. Driving away was slow, with traffic jams in front and fire often visible in the rear view mirror.
People didn't know where to go. Some had family or friends to go to, but many did not. One hotel in Rohnert Park, not far away, spread the word that dogs, cats, and other pets were welcome despite its usual policies, and it filled up. There were shelters which allowed pets also.
Speaking of pets, the Santa Rosa paper (the Press Democrat, my main source of information) and other internet sources ran quite a few stories of people going back to a home in ashes only to find a beloved dog or cat coming out–often limping out–from some hiding place and eagerly greeting them.
Within a week FEMA had an office in downtown Santa Rosa, where people could apply for help from various agencies, even if they had little or no ID. By then, many people had contacted their insurance agencies. Ever so slowly, the wheels of adjustment were cranking.
Will They Recreate Their Lives as They Were? Would You?
Many–probably most–people will try to, even while recognizing that the same "normal" isn't ever going to come back. Jobs that require their presence, children in school, friends and family they want to stay close to, church  or other community connections, finances, or other reasons will make this the way to go. And of course, it's a natural way of thinking. After people had lost their homes, they were often quoted in the papers or said themselves online that they would rebuild. That felt valiant to me, but I also thought they might need more time to evaluate their best choice.
What would you do if your home was damaged or destroyed, whether in a hurricane, a forest fire, or something else? What will you do, without that happening to you but by using your imagination now to consider some choices?
Alternative Housing and Lifestyle Choices
Housing Choices: RVs, Tiny Homes, Smaller Houses, Sharing
RV Living
My husband and I full-timed in our RV for almost half a year in 2014-15. We went all over New Mexico, mostly staying in the excellent and inexpensive state parks, with an annual pass. That link takes you to the category page for RV living on this site… to read the posts in order, start at the bottom.
We concluded that we didn't want to full-time ourselves, but we sure met a lot of people who love it. I go into the pluses and minuses quite a lot in those pages. As for ourselves, we ended up selling our Colorado home and moving to a town we explored on that trip, Silver City, NM, and it has been a good choice for us.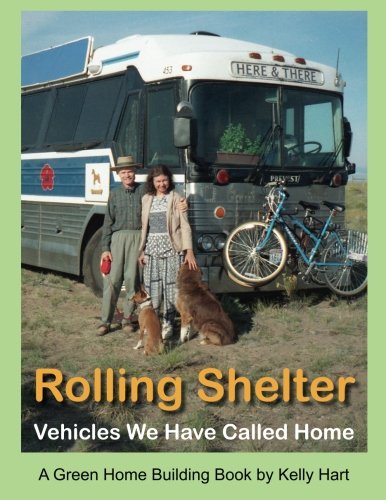 This book by Kelly describes most of the rolling homes we have had. It could give you some ideas for yourself! Click on the image for a new tab to open at the Amazon page for the book.
An excellent website on cheap RV living is called just that: Cheap RV Living. I spent a lot of time on its forums when we were in our rig. Highly recommended!
Tiny Homes
The expression "tiny homes" means different things to different people. We think of our various vehicles as tiny homes, and we also once lived for several years in a 500 square foot house we bought in Mexico. That wasn't movable but it was definitely tiny!
"Tiny homes" are often more narrowly defined as homes built on trailer frames with wheels (or that could have wheels) and capable of being moved via roads. There are many of these that cost far, far more than most RVs with comparable or better facilities. If you are on a budget, I think you do best with a motorhome or pickup and trailer, but we all have different tastes.
Smaller Houses and Sharing
People rebuilding or moving to a new area are considering the size of dwelling they need. While a really tiny place may be too small for their needs, they may be happy with a smaller home than they had before.
For some people, sharing a home works out well. That could be roommates or it could be family members.
Natural building is Kelly's passion and area of expertise. That link takes you to a descriptive list of all his websites.
Lifestyle Alternatives
Gardening
Kelly and I both like to garden and we consider it a significant part of our low-cost lifestyle. It's part of why we left Colorado, where we had a three-month growing season if we were lucky. Here in New Mexico we have a much longer one, but we also have lots of resident snails, sow bugs that have done more damage than I have ever seen, soil that isn't great to start with, and a persistent lawn grass that the previous owners planted.
One way to grow greens indoors is a kind of sprouting, done in soil or coir rather than just in water. We've been doing this lately, and it uses very little water. Here's the book that has been our information resource: Year-Round Indoor Salad Gardening: How to Grow Nutrient-Dense, Soil-Sprouted Greens in Less Than 10 days.
Save Important Files and Beloved Photos and Artwork by Backing Up to the Cloud
We have used Dropbox, which offers both free and paid versions, to back up our computer files and our photos for several years now. Admittedly, a photograph of a favorite painting is NOT the same as the painting, but it is still worth your time to upload photos that you would be glad to have if the originals were damaged. I also use Evernote and Lastpass. And I make sure I have the passwords to these programs where I could get them no matter what.
Money
Keep some cash on hand. If the power is out, the ATMs don't work. I could say a lot more, but will save that for a different article.
It Could Have Been Worse
It was not an earthquake. Scientists say there could be a big one in this area.